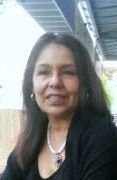 Hi, this is Susie Moreno I have served on the KPFT Station board for four years. During that time I have been an active member in service to KPFT listeners, programmers and all those who support Pacifica's Mission. I have also been a listener member for many years.
My professional background is in the health profession where I am a dedicated caregiver. I am also committed to building progressive communities and so I have volunteered with the Deplechin Children's Center where I worked with abused children, Stephen Ministries and Hospice. I have work for other organizations and have been doing community volunteer work since I was a teenager when I helped start a Junior GI Form chapter in west Texas.
Many know me to be an independent thinker. I support and work to uphold the Pacifica's values on education, integrity and inclusiveness. I bring a sense of calm and pragmatic thinking to the board. I listen to my fellow board members, station members and programmers with an open ear. If elected, I will continue to lift up these values and be a voice for KPFT listeners and the greater Houston Community.
Optional Questions