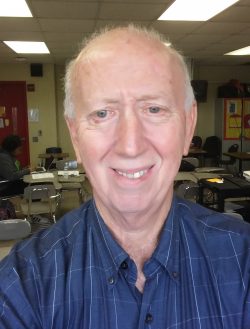 Our bylaws say the Local Station Board "shall have the duty to … work with station management…" Because I want to work with management, I shared an earlier version of this statement with Duane Bradley, General Manager, Ernesto Aguilar, Program Director, and Robin Lewis, Development Director. Out of respect for them, I am keeping their responses to myself. Having served on the Local Station Board, I've learned that NOTHING HAPPENS WITHOUT THE COOPERATION OF MANAGEMENT.
I've done many things for KPFT. Last year, I initiated and then chaired the committee that produced "The KPFT Tennis Fun Fest." As a result, and with great support from Gordon Quan ("Coming to America"), we raised over $4,000.
Gail Collins, the former editor of the editorial page for the New York Times, wrote As Goes Texas. She says MUCH OF WHAT'S RIGHT AND WRONG IN AMERICA AND THE WORLD STARTS IN HOUSTON. KPFT MUST CONTINUE TO EXPOSE THE POWERS THAT BE.
Right now, I'm serving as convener of the 24-person Anti-Racism and Diversity Committee. Most of the people who belong joined because I recruited them. In the past some people have sought to kill ARDC. For about two years they were successful. I don't know if it's a coincidence but during that time, listenership and fundraising for KPFT decreased. The bottom line: ARDC needs to help turn this around. KPFT NEEDS MORE LISTENERS AND VOLUNTEERS.
If no one hears it, KPFT doesn't make a sound. Right now the station does a good job of sharing ideas from and about historically marginalized communities, but THE SIZE OF OUR AUDIENCE IS TOO SMALL.
KPFT is vitally important. I have a deep fear that KPFT is going to die. Recently Pacifica received a gift of over $150,000. Other donations have followed. Soon we will again be broadcasting at 100,000 watts. We can't squander this opportunity to serve the greater Gulf Coast. As a board member, I am going to continue to work to expand the number of committee members and volunteers. WE MUST GROW KPFT.
Over the years, I'VE BECOME SKILLED IN ROBERT'S RULES OF ORDER. I served as the Parliamentarian for the Pacifica National Board in 2001-2. No one else has served as long. I know how to lead committee meetings, and I know what's involved in both running and participating in LSB meetings.
For my passion, skills, accessibility, and for a strong KPFT, I REQUEST YOUR FIRST PLACE VOTE. To contact me, I can be reached at ted@llu.com or 281-546-6793.
Optional Questions