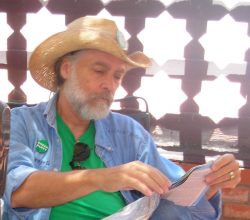 I am Don Cook, and I hope to return to the KF Local Station Board. I little suspected when I resigned from the board to pursue matters which would have constituted a conflict of interest that my return would be delayed by the postponing of board elections. Advocating radical democracy, I am appalled by its unscheduled delay, but a combination of global warming with the broad economic has contributed to KPFT's dire situation.
Hurricane Ike contributed to our problems by knocking us off the air and damaging our broadcast infrastructure to limit, to this day, our broadcast signal. The quickest simplest way to increase our audience and thereby our income is by restoring the infrastructure which allowed a wider broadcast radius, and draw more membership and revenue from a larger pool of supporters. Whatever obstacles have prevented tis infrastructure restoration must be eliminated.
When I first joined the board eight years ago, conditions were austere enough, but then the Great Recession contributed to the loss of 30% of our listener membership, accompanied by reduction in revenue. the limited recovery of the national economy since has not helped.
But the reduction in KPFT membership also reflects our loyal but aging demographic. When KFT was founded 45 years ago the average age of staff and membership was mid twenties. Average age is higher now. It is clear that we need to attract more Millennials and Gen Xers. Radio being not the hip, cool medium with the kids as of yore, I therefore applaud the current exploration and exploitation of the internet and social media. (Question: How can we further enhance our fundraising via social media?)
We must develop a new leadership to throw out us old geezers. I am optimistic that we can attract new membership and leadership by increasing the processes of democracy. (Ask me about possible reduction of conflict of interest by structural changes in governance architecture. 713-705-5594 zenbews@hotmail.com
Optional Questions