Contact Mark Hernandez
Listener Candidate for the KPFA Local Station Board
Statement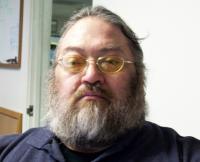 My name is Mark Hernandez, Listener Candidate for KPFA Local Station Board and member of both Pacifica and www.SaveKPFA.org.

KPFA is the jewel of both public broadcasting and political information, the first of its kind and continuing over the years, an example for other stations and networks to aspire to. Over the years, many have tried to subvert and twist KPFA from its all-inclusive fundamental purposes to those that support a limited or narrowly focused agenda.

This was true in 1999, when we came closest to losing KPFA entirely, saved only when that community of KPFA listeners of all beliefs rallied to preserve our last, best hope for Free Speech and Free Expression.

Today, we face a similar crisis internally, where staff are assessed on how closely they adhere to ideals held by others, and members of the Local Station Board and Pacifica National Board exceed their power, trying to run KPFA without any valid authority to do so "because they can".

We have seen programs with demonstrable public support and good fundraising ability taken off-air and dismantled for no other reason than "because they can".

We have seen staff laid off due to lack of funds, because Pacifica regularly raids KPFA funds to pay off its own debts, and never paying it back "because they can". We see the same with equipment, both for broadcast and internet programming, allowed to decay due to lack of investment in the KPFA infrastructure "because they can".

Supporters of www.SaveKPFA.org even pledged donations of over $63,000 to prevent program losses and staff cuts, only to be rejected without any valid or rational explanation other than "because they can."

That three-word phrase seems at the heart of problems with trying to maintain KPFA and Pacifica in these times, causing strife, internal struggles and loss of support over the inability to put aside social and political differences to make sure that we still have a station to cover these issues.

We need to move beyond the agenda-driven "because they can" mantra to a more inclusive and workable pledge to the whole KPFA community..."because we must."

We must put station operations and programming for the whole community first, instead of tightly focused, rigidly specialized and self-aggrandizing content.

We must re-connect to the listening audience and let them hear the KPFA that was the first of its kind to broadcast political and social commentary come back alive, but for everyone instead of an elite and select few.

We must ensure that KPFA is properly managed, its staff and volunteers appreciated and participating in governance alongside listeners, with no one shouting down or intimidating others from being part of the KPFA community.

We must work to ensure the security of KPFA within the larger Pacifica structure, or find a way to secede from Pacifica gracefully in order to insure that both the station and KPFA community are never threatened again

Because we must. Now.

For more information on www.SaveKPFA.org and its candidates, please visit www.saveKPFA.org today!
Answers to Candidate Questionnaire
1.
In what ways is your station moving in a positive direction, that you would want to continue or perhaps improve?
KPFA is moving more to outreach into the broader community rather than narrowing its focus to a few. By doing so, it allows contact across social and political boundaries, helping to build a larger and stronger public voice.

I would support programming which reflected general community coverage, which would allow those communities with the KPFA listeners to have on-air presence if they were unable to develop their own programming.
2.
In what ways is your station moving in a negative direction, that you would want to stop or change? What changes would you work for?
KPFA is in danger of losing its community identity with the fiscal issues of Pacifica; as more money is taken from the listeners and is not being reinvested in KPFA, one of two outcomes result:

A) Programming becomes more and more bland as less resources are available for production; or,
B) Those who can afford the time and expense of producing programming will take over the air for their own purposes.

We need to make certain that Pacifica can raise funding for itself on a national level, rather than force the five sister stations to maintain operations for themselves and the national offices. We need to keep KPFA's finances safe from raids and directives that directly impact station operations and programming needs.
3.
What key experience, connections, skills or traits would you bring to the Local Station Board to advance the station's mission?
I have worked in both commercial and public broadcasting since 1973. I have primarily worked with KFCF-FM in Fresno, which is affiliated with KPFA. My tenure with KPFA began in 1999 when I was asked to join what was then the Local Advisory Board, and was later one of the first elected to the new Local Station Board for KPFA. I am also serving on the Board of Directors for KFCF.

Also, I work in computer technology and have webcast LSB meetings in the past for the public to listen to, separate from the KPFTX web site.

The skills that I have in these areas give me insight into the operations and functions of KPFA and Pacifica that most others do not have.

My focus is not on advancing social or political agendas, but on making sure that there is a place that this can be done. My drive is to make sure that KPFA survives to be able to produce such programming, and to carry out its mission to educate and advance the listeners.

The internet presence is an important one, but still does not reach as deeply into the community as the KPFA radio signal does.

If we do not have KPFA, we would have no place to raise our voices as far and wide as we do now.
4.
What ideas do you have for helping the station and the Pacifica Foundation meet the financial challenges currently being faced?
Soliciting indirect corporate non-cash donations which can be converted to fundraising use (as is done for contests) or to replace outdated equipment and technology.

Use of Certificate of Deposits and other means of raising cash for operations, both at the level of KPFA and of Pacifica.

Use of "outside the box" thinking to develop new ideas or rethink older and traditional ideas for station fundraising. If stability can be brought to Pacifica, the possibility of creating a national credit union would be one such idea to allow the public to invest in and support KPFA and Pacifica at both local and national levels.