Contact Paula S. Erkkila
Listener Candidate for the KPFA Local Station Board
Statement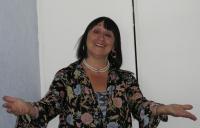 I, Paula Erkkila of SAVE KPFA, intend to promote consensus, timely problem-solving, and innovation, using the cooperative tradition and labor struggles of my Finnish immigrant parents, and my 40 year-long wage-enslaved iron miner father, along with my UC student activism in the Third World and anti-war movements, Women's Health Collective and Free Clinic. I am committed, as an Occupy patriot, P&F & IWW member, writer, and retired public sector MD, into sustaining KPFA and Pacifica into a long-term beacon in the struggle against corporate greed. I support restoring KPFA's LOCAL CONTROL, restoring the PNB's ADVISORY & COORDINATING ROLE, dedicated to a fair network financial recovery plan, in an efficient, transparent, and accountable manner, STREAMLINING UNWIELDY GOVERNANCE STRUCTURES, and promoting CONSISTENT PROGRESSIVE HIGH QUALITY PROGRAMMING, designed to reach the widest possible audience. I recommend LSB role orientation training, and encourage self-criticism.

After the outrageous and financially-disastrous cancelling of our biggest fundraiser, The Morning Show, under the guise of a cost-cutting measure, and management's rejection of staff and board solutions and the special listener pledge, I found no recourse to respond, as I had during the coup of 1999, because this sectarian-led debacle, coupled with a top-heavy bureaucracy, was more insidious and pernicious. I was very concerned that a dictatorial PNB could destroy the entire network, resulting in a Berkeley Coop type of collapse. I attended eleven 5 hour-long LSB meetings in the last 16 months, in order to understand the threat to KPFA's future. Listeners were becoming alienated by the substituted yet important programs, wrongly inserted into the prime time morning slots, revenues decreased, unethical and deceptive tactics abounded, and a paralyzing polarization resulted in frustration, inefficiency, and an inability to dialogue, debate, and compromise. Obstructionism, condescension, disrespect, and contentiousness were encouraged by those who were breaking rules, ignoring by-laws, manipulating an election, initiating costly lawsuits to prevent elected members from serving on the PNB, and against the special listener pledge, initiating board walkouts to prevent a quorum, misusing listener e-mail addresses and staff retirement funds, bouncing some paychecks, ignoring seniority, stalling the recall, decreasing the PNB's transparency and accountability, and thwarting the LSB general manager selection process.

Let's end this deadlock now, before it's too late. Elect SAVE KPFA candidates, who will practice sound business principles and promote solidarity against the real enemy we all face, instead of divisiveness and obstructionism. With the restoration of LOCAL CONTROL, and the establishment of a strong collaborative relationship with the PNB, and the streamlining of inefficient structures, KPFA and the network can move forward to face the difficult challenges ahead, and sustain our airwaves against corporate greed.






ENDORSED BY:
Pamela Drake, Kate Gowen, Conn Hallinan, Barbara Whipperman, Margy Wilkinson
Answers to Candidate Questionnaire
1.
In what ways is your station moving in a positive direction, that you would want to continue or perhaps improve?
1. The LSB has been challenging the secrecy and withholding and/or delaying of information needed for budgeting and the selection of the general manager, and other issues, and this is unacceptable for station functioning. 2. Recent proposals at the PNB that each station be responsible for their own budgets, and that KPFA stop subsidizing other stations at the expense of our own programs and staff, need to be followed through, in order to restore local control, and achieve a reasonable balance between Pacifica and its stations. 3. Other positive developments are the new 7 am program with Tiekert et al, which has pleased many alienated listeners, and been a fund-raising success. Placing programs in the proper time slots to maximize contributions, while still serving our diverse communities needs to be regularly analyzed, based on factual input from listeners, staff, and management.
2.
In what ways is your station moving in a negative direction, that you would want to stop or change? What changes would you work for?
1. The intolerable obstructionism and inefficiency at LSB meetings, need to end immediately. Unethical, confusing, and deceptive tactics, as well as game-playing board walkouts, pitting paid and unpaid staff and communities against one another,and costly lawsuits do not further KPFA's and Pacifica's missions and day-to-day operations. Both boards should conduct periodic self-criticism sessions, in a spirit of consensus, compromise, and cooperation, to improve their ability to resolve controversies, and to create an atmosphere for the innovative solutions necessary to tackle the serious problems we are facing. 2. The loss of local autonomy and control needs to be corrected. 3. Increased fund drive times, because of ill-timed programming, need to be decreased by strategically-placed programming. We cannot afford to be threatened by more cuts and lay-offs, resulting in popular programs being discontinued.
3.
What key experience, connections, skills or traits would you bring to the Local Station Board to advance the station's mission?
1. 27 years resourceful and creative problem-solving in public sector mental health 2. Innovative counter-cultural pursuits in Berkeley and Sonoma County 3. Occupy patriot in support of our disenfranchised youth, minority and poor communities, who are on the front lines, and all Americans, who are feeling the crunch 4. Dual citizen US & EU Finland, where conservatives are progressive, & social welfare, cooperation, conflict-resolution, peace-keeping, education, sustainable development, and women's rights are paramount As above. Also member of supportive multi-generational Sonoma County network of small organic farmers and herbalists. Problem solver, innovative. Writer of political and historical essays, short stories, and poems. Commitment to KPFA and Pacifica, spirit of camaraderie, optimistic, fair, ability to compromise, both/and approach, long-view, and lifelong student
4.
What ideas do you have for helping the station and the Pacifica Foundation meet the financial challenges currently being faced?
1. I support a network financial recovery plan to prevent the collapse of all stations, as in the Coop fiasco. Each station, as well as the foundation, must control their own budgets and find acceptable cost-cutting measures. The PNB should have an emergency fund.2. Strategically place programming, periodically assess listener, staff, and management feedback about programs and fund drives, and consider periodic emergency pledges. 3. I propose critical budgetary training, and fundraising, outreach, and community need workshops for board members to be well-advised on the possibilities, and how to analyze their effectiveness. 4. Check into grants, encourage wills, automatic listener membership renewals, increasing efficiency, and using the latest internet technologies.