Statement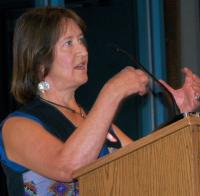 My name is Karen Pickett, and I am a candidate for the LSB. KPFA has been a big part of my life since the 1970s, when I relocated to California from the east coast. I have been an environmental and social justice activist since the mid-70s, long affiliated with Earth First!, Bay Area Coalition for Headwaters, the Global Justice Ecology Project, the Ecology Center, and many other grassroots campaigns and groups. I am also on the School Board of Canyon Unified School District. I believe in the power of direct action-along with hard work-and have been very excited and inspired the past year by the Occupy Movement. We must evolve. And KPFA must evolve, constantly, intelligently, thoughtfully and with utmost respect for the people who keep the station alive and vital, and respect for the issues.

I depend on KPFA to be an informed activist, but I have also stood as a source of news stories, interview referrals and information on issues being covered by programmers in the news and public affairs departments. That access-for grassroots activists in the trenches-is one of the strengths of KPFA. The truth can be an elusive thing, and it takes hard work, and a combination of sourcing from the "experts" and from those in the trenches to arrive at a semblance of the truth. To attract and keep the kind of programmers, paid or unpaid, who will do that hard work in cooperation with our community requires that KPFA be an environment where people can thrive. It is up to all of us to build that environment, and also to be the boosters of this place on the dial that we are so blessed to have in the Bay Area. I hope I can make a contribution.

KPFA in many ways came out to show its stuff-what it is uniquely capable of-during the Occupy movement. Journalism in the streets, and from the trenches is one of things KPFA does best--vital particularly because it's not duplicated in other media. Whether bringing the streets into the studio or bringing the mics into the streets, KPFA has to be a place that attracts both the powerful voices and the disenfranchised to be the voice of the people, and we need that to effect change.

The discord and problems at KPFA are undeniable and stand in stark contrast to the quality programming we hear on the air. That said, we can and must do what is necessary to ensure financial stability and a workplace that supports all who bring their skills to the air. I think I have something to offer this station I love and we all need. I support the platform United for Community Radio, but respect and value so many programmers at KPFA. Vote for me and United for Community Radio-see www.votecommunityradio.org.
Answers to Candidate Questionnaire
1.
In what ways is your station moving in a positive direction, that you would want to continue or perhaps improve?
Recent reports to the Listener harken back to days when this happened more often, sometimes in the context of shows that were largely call-in. It not only involves the listener and allows them to feel more a part of the process, but brilliant and creative ideas sometimes pop up from people we might not otherwise hear from.

Recent fundraising has been more successful, and that buoys programmers, as well as getting to a more stable financial situation. Let's analyze what went right in the most successful fund drives and see what we can replicate.

More programmers out in the streets collecting news and on-the-spot interviews always injects excitement and an involved perspective into newscasts, which, by their nature can sometimes be dry. Setting up mobile broadcasting, as was done at Occupy, is a fantastic idea!
2.
In what ways is your station moving in a negative direction, that you would want to stop or change? What changes would you work for?
Partisan politics often run entirely counter to real problem solving, and the factionalism at KPFA is something that saddens and troubles me tremendously, in part because it undercuts stability and a supportive and safe work environment. I have great respect for so many people at KPFA, and do hold hope that given the intelligent and creative minds at the station, we can learn better ways of working together. It is not sitting in a circle singing "Kumbaya", but it does have to do with tolerance, respect, and recognition of the beauty of diversity of ideas.
3.
What key experience, connections, skills or traits would you bring to the Local Station Board to advance the station's mission?
After working on the front lines of Earth First! campaigns, and with many other organizations, including founding a "blue/green" alliance, The Alliance for Sustainable Jobs and the Environment, and many other environmental organizations as well as groups seeking justice in Native American cases, and teaching classes in activist skills, I have a wide ranging community and consider myself pretty well-connected in the larger Bay Area and beyond community.

I have also been on a number of Boards of Directors, including the Ecology Center, the Global Justice Ecology Project, and most recently the School Board in my community, as well as many advisory boards and task forces. I believe I know how to be a team player. I am also a good listener (and listening and truly hearing each other is key),
4.
What ideas do you have for helping the station and the Pacifica Foundation meet the financial challenges currently being faced?
Fund-raising is always one of the toughest areas to approach, but I have heard some creative ideas tossed around recently, like tapping into purchases from programmers' playlists (something complex at best, but targeting an audience who are perhaps not yet subscribers), and perhaps doing fundraising out in the community at outreach tables, as well as lining up large concert gigs.