Statement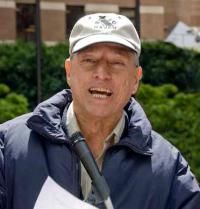 David Welsh for KPFA Board - Nomination Statement

KPFA and Pacifica can be a tremendous force for change, amplifying the voices of the millions whose needs, desires, opinions and culture are overlooked or silenced. As a board member I will fight for this perspective.

Here are some ideas I would like to see implemented at KPFA.

We need more community programming, produced in collaboration with grassroots community groups. Tight, imaginative programs. We need more on-the-scene news reporting, and more innovative music and cultural programming.

We need to reactivate the Program Council, including listener representatives, to evaluate current and proposed programs.

We need to rely more on news sources that include the viewpoints of people's movements and communities, rather than relying on conventional wire service copy which, particularly on international stories, often reflects a US government line. We do not need to be a second NPR!

We need creative ways of broadening our listener base. We can organize Community Radio Caravans bringing music, speakers, agitprop skits and poetry - on a flatbed truck, for example - to different neighborhoods and towns in the areas reached by the KPFA signal. These traveling shows will reach out to new listeners, while expanding our financial base of support.

We need to improve our web presence, with searchable archives - integrating video, transcripts, livestreaming and social media - to reach new communities of listeners with KPFA's unique content.

My background:

Journalism - Reporter, Senior Editor of Ramparts Magazine, 1964-68. Investigative reporting from S.E.Asia, Spain, Selma, Delano, Kentucky (Coal wars), Dallas (JFK assassination). Writer for Detroit News; UPI in Tokyo; Agence France Presse in Paris. Radio reporter for Civil Rights News Network, Mississippi '64...ABC Radio, Algeria '65...WBAI covering '64 Democratic Convention [Miss. Freedom Democratic Party challenge]. Edited Soul on Ice, the prison writings of Eldridge Cleaver.
Labor - Delegate, SF Labor Council. Retired mail carrier and longtime Executive VP of the SF Letter Carriers Union. Founding delegate, US Labor Against the War.

Organizations - Participated in five Pastors for Peace caravans breaking the blockade of Cuba. Veterans for Peace. Freedom Song Network (28 yrs). Haiti Action Committee since '91, including five investigative/solidarity trips to Haiti. Occupy Oakland occupier.

Commitment to KPFA - During 1999 lockout, I was in the street in front of the station or guarding the transmitter on all but two days of the three-week-long confrontation. I joined with hundreds of people to physically defend KPFA, which was a key part of the struggle to prevent the takeover of KPFA and Pacifica by anti-democratic forces.

At a time when people everywhere are rising up against injustice, KPFA can be their megaphone.
I ask for your vote for myself and all the candidates on the United for Community Radio slate.

www.VoteCommunityRadio.org
Endorsed by Michael Parenti, James Vann, Barbara Lubin, Pierre Labossiere.