Long Statement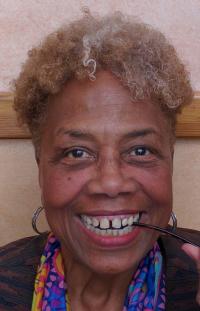 I am Andréa j. Turner, a candidate for the KPFA Local Station Board. Join me and the SAVE KPFA listeners as we work with you to advance KPFA and Pacifica forward in this period of economical, environmental and cultural-social crises. Were united in this challenge!

Our challenge both locally and globally, is to provide KPFA and Pacifica with an array of opportunities to broaden our listener base, strengthen our network relationships and forge new collaborations. We have more in common than what we allow our perceptions to accept. I believe that our listeners, staff (paid and unpaid), apprentices, volunteers, national and local board members and affiliates, can find common ground to resolve disparities that threaten the growth and development of KPFA and Pacifica in general. The times call for us, more than ever, to utilize the power of our partnership, as a transparent network, to develop and implement sound policies impacting the quality of personnel, fiscal systems and programming.

I have served both on the local station and national boards; and, as a candidate, with a renewed sense of purpose, I believe our creative energies can best serve listeners through the use of new technologies and venues that expands the voices of the culturally diverse and disenfranchised communities!

As a cultural activist, I am actively engaged in the struggles for workers rights, civil rights and human rights! I am currently one of the musical directors of Vukani Mawethu choir which grew out of the anti-apartheid movement. Im one of the original organizing members of the Freedom Song Network. I have worked to produce numerous art exhibits and cultural festivals including themes centered on intergenerational Art: youth and elders, Peace activists and Labor movements. Im a Program Director for senior volunteer services in the City of Oakland. I serve on both the East Bay Peace Action board and A Safe Place (Domestic Violence) board. These positions have given me experience in areas of policy and program development, fundraising and outreach.

I have extensive experience working with grassroots and faith-based programs in Alameda, San Francisco and Contra Costa counties. These experiences have helped to shape my perspective and understanding of collective work. Most importantly, Ive experienced many movements and have come to understand the meaning of the song freedom is a constant struggle. From singing with the Rockin Solidarity Labor Chorus to travelling to South Africa to sing for Nelson Mandela and or, rallying chants of encouragement for the workers in Oaklands Local 21 demonstrations. The information and access produced by KPFA is invaluable to all of our struggles!




Biography
A vote for me will help to keep our voices of social change and our KPFA air-ways moving forward! Vote for Andrea Turner-SAVE KPFA to ensure that our air-ways become more inclusive and forever building for peace and social justice. If our voices are stifled, the best counter attack is a united voice of the people. Artists and activists need KPFA to celebrate our diversity, express our dissent and mobilize the progressive community into action! I value and support staff, apprentices and volunteers who work hard to make programs for and by the people. Together, lets keep KPFA alive and well