Statement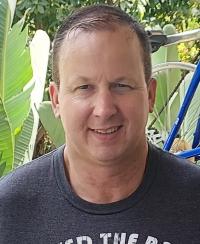 For over two decades I have served as a communications specialist and media relations expert on the frontlines of a broad range of social, economic, and environmental justice issues. I earned a master's degree in Telecommunications Policy from San Diego State University and a bachelor's degree in Mass Media from the University of California San Diego.
I am running for the KPFA Local Board of Directors because independent radio is one of the cornerstones of a thriving democracy – and it's currently on life support. Despite growing audiences for publicly funded stations, progressive podcasts, and online news, Pacifica Radio's toxic brew of corporate underwriting, incompetent and unhinged leadership, and unmanageable bylaws has resulted in declining listenership and impending financial collapse.
Thankfully, KPFA's listeners, staff and diverse management team has made it the crown jewel of the Pacifica Radio Network. KPFA remains the only station with a full news department that pays its bills and contributes the most to the Pacifica Network.
Independent news-focused radio engages, persuades, and informs—and, when done right, builds trust. KPFA must continue to earn that trust by telling the truth and covering the social movements and political dynamics that the corporate media ignore – serving to not just inform the public and speak truth to power but speak truth about power.
If we fail to protect KPFA from the same dysfunction, disorganization, and failed leadership that has plagued the other Pacifica stations, odds are we could lose them all to right wing extremist groups or evangelical Christian stations. Such a tragedy would be a major blow to American democracy itself.
As your KPFA Board Representative I will:
• Support new bylaws to create a functional national board that is directly accountable to listeners.
• Protect KPFA's staff contracts, pensions, licenses, buildings, tax exempt status, and diverse management team.
• Expand KPFA's membership, support and share KPFA's innovative engineering upgrades with 21st century technology and equipment, implement intensive training programs and increase internships to bring new voices onto the air.
• Safeguard KPFA's resources and building by bringing financial sustainability through the expansion of investigative news and analysis with well-produced, skillfully evaluated programming addressing the social, environmental, and economic justice issues that most impact people's lives.
• Support a workable Pacifica strategic plan that includes repayment of Pacifica's $3.2 million loan secured by KPFA's station building for debt incurred by station WBAI.
Together, we can counter the relentless spread of the hard-right by protecting KPFA, saving independent radio, and informing and empowering our community. I'm proud to have the endorsement of media critics and authors Norman Solomon and Jeff Cohen as well as KPFK's Sonali Kolhatkar. Please vote for me and all the KPFA Protectors. For more go to KPFAProtectors.org

Answers to Candidate Questionnaire
1.
What experience, connections, skills or traits would you bring to the local station board to advance the station's mission?
I have masters and bachelors degrees in telecommunications policy and mass media and have spent over two decades working as a media specialist and communications expert on a broad range of progressive issues. I have relationships with press, non-profit advocacy organizations, and leading activists and know how to communicate to the broader public in ways that will build KPFA's listenership and protect its staff and mission statement.
2.
What do you appreciate and value in the station's current operations?
The hardworking staff and management. KPFA is the only station of the Pacifica Network with a full news department and that pays its own bills. KPFA remains a critical, independent voice that covers the issues corporate media tend to ignore.
3.
What would you like to see improved or changed in the station's current operations?
Once elected I'll have a better idea of what needs particular improvement. What I do know is that Pacifica's bylaws need reforming and KPFA must be protected from the same dysfunctional and failed leadership that has so hampered the other four stations.
4.
Describe what you anticipate would be your top three priorities or areas of focus if you were elected to the local station board.
Protect KPFA's staff contracts, pensions, licenses, buildings, tax exempt status, and diverse management team. Grow listenership. Pay off loan.

Expand KPFA's membership, support and share KPFA's innovative engineering upgrades with 21st century technology and equipment, implement intensive training programs and increase internships to bring new voices onto the air.
Safeguard KPFA's resources and building by bringing financial sustainability through the expansion of investigative news and analysis with well-produced, skillfully evaluated programming addressing the social, environmental, and economic justice issues that most impact people's lives.

5.
Sustainability is an important part of any nonprofit operation. What are your thoughts on how the board can help to improve the station's financial footing?
I will know more once elected, but first and foremost we need to expand listenership, increase donations through high quality programming, and come up with a workable Pacifica strategic plan that includes repayment of Pacifica's $3.2 million loan secured by KPFA's station building for debt incurred by station WBAI. I also support the legal action being taken against two of the national board directors that seeks to have them repay the network (and kpfa) for the damage and loss of revenues their actions have incurred.
6.
Is there anything else you would like prospective voters to know?
I believe independent, not for profit radio is one of the cornerstones of a thriving democracy. Together, we can, and we must, protect KPFA and its mission statement, save independent radio from a right wing takeover (today's "right" represents an unprecedented threat to our democracy), and build a progressive movement (the ultimate goal) through providing access to news and information that creates knowledgeable and engaged citizens.