Statement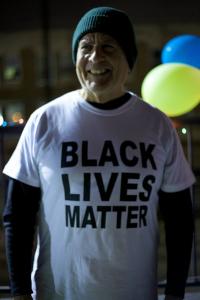 As chair of the Local Station Board, I – Michael Novick – have worked to fulfill our significant responsibilities and open our processes up to listener and staff member input. Based on my commitment to democratic governance, community radio and diversity, I facilitated the completion of annual management reviews, a successful search process for a new General Manager when our former GM left, and the development of protocols for electronic communications and digital/telephonic meetings. I worked with the interim GM to implement the national board mandate for the station to air monthly reports, with on-air call-ins, by the GM and by the LSB. The first LSB show aired in July. Despite differences on the LSB about the proposed Bylaws revision, I was, as chair of the GM Search Committee, able to reach a consensus on a pool of five candidates, all with significant management experience in non-profit public and community broadcasting – a testament to the unique valuable role KPFK can play as we overcome current weaknesses.
I am a concerned listener, a former unpaid programmer at KPFA, a rank-and-file labor activist in UTLA, and an anti-racist person of European descent committed to solidarity with the freedom, liberation and sovereignty struggles of Black, indigenous and other people of color. I edit and publish Turning The Tide: Journal of Inter-communal Solidarity, am on the editorial crew of Change Links, the community calendar and progressive news, and serve as a board member of Interfaith Communities United for Justice & Peace, which marks its 20th anniversary on 9-11-21. I believe KPFK can rebuild its listenership, membership and financial base by increasing its engagement with the current communities of resistance and solidarity around southern California, and by bringing the many-to-many ethos and interactivity of social media to our broadcast operations. I have pushed for a strategic planning process, by management, paid and unpaid staff and governance, that can identify our strengths and weaknesses, and chart a path forward by using our existing talents and resources to further community engagement, service and responsiveness, programming improvement, and off-air fundraising through community events, planned-giving, re-establishing "Friends of KPFK" chapters around the listening areas, and other similar approaches. It's imperative to rekindle KPFK and Pacifica's commitment to peace and opposition to intervention and militarism, exploitation and oppression, and maintain our independence from corporate political parties.
I'll work to restore KPFK's local newscast by helping recruit volunteer reporters from community organizations that cover housing, houselessness, policing, the legal system, local, state and federal government, education, labor, the environment, women's and LGBTQ issues, and other pressing concerns. I'll work for the return of a co-hosted local morning magazine show covering local news, public affairs, and cultural expressions. I'm running with the anti-racist, anti-war, and eco-socialist Grassroots Community Radio Coalition and urge you to vote for our slate to ensure that community voices are aired without censorship or gatekeepers. Call me at 323-636-7388 with questions or concerns, email antiracistaction_la@yahoo.com or see https://gcrc-socal.org

Answers to Candidate Questionnaire
1.
What experience, connections, skills or traits would you bring to the local station board to advance the station's mission?
I am the current chair of the Local Station Board, a former Pacifica National Board member, on the board of Interfaith Communities United for Justice & Peace, and am editor and publisher of Turning The Tide: Journal of Inter-communal Solidarity, on the editorial and production crew of Change Links community calendar and news, I have participated in coalitions and social, economic and environmental justice struggles and anti-war movements throughout Southern California for many years. I was part of the task force that developed Pacifica's COVID response and developed the COVID, Race & Democracy show, Pacifica's first new national program in years, featuring content from all 5 Pacifica stations and from many of our affiliates around the country. I helped set up the mayday.pacifica.org and covidtaskforce.pacifica.org websites, and would be prepared to help recruit local stringers from community organizations to rebuild and restore KPFK's local evening newscast with coverage of housing, labor, policing and court system, education, environment, labor, gender justice and peace issues.
2.
What do you appreciate and value in the station's current operations?
I especially appreciate the community based programming and its diversity, including Freedom Now, Feminist Magazine, Spotlight Africa, IMRU, Lawyers Guild, Sojourner Truth, Move the Crowd with Melina Abdullah, etc. I appreciate Informativo Pacifica and other Spanish language programming. I like John Schneider's show, Canto Tropical and Cantos Sin Fronteras. I am glad COVID Race & Democracy is finally airing regularly.
3.
What would you like to see improved or changed in the station's current operations?
I will work to restore a locally produced and focused hourlong newscast, a locally produced and co-hosted morning magazine show that incorporates news, public affairs and cultural coverage & expression, and in general more community based voices of artists and activists speaking for themselves as they shape the future. I would work for more audio-visual productions, greater integration of the many-to-many interactive ethos of social media in the broadcast operations, and greater emphasis on community engagement and community events for fundraising.
4.
Describe what you anticipate would be your top three priorities or areas of focus if you were elected to the local station board.
1, Increasing financial transparency and accountability
2. working with management and staff to produce a step-by-step strategic plan for best use of the station's talents and resources to rebuild our audience and impact
3. Making sure the LSB and its committees, and the PNB Committee of Inclusion for KPFK, fulfill all their responsibilities, and discuss them with the listeners on the air and via the station website.
5.
Sustainability is an important part of any nonprofit operation. What are your thoughts on how the board can help to improve the station's financial footing?
I wrote the motions establishing the LSB Fundraising Committee and a development task force and participate in the PNB's national Development Task Force on off-air fund-raising. I have advocated for joint book tours with KPFA to attract big name authors with gigs in the Bay Area, Fresno, Santa Barbara , LA/OC, and San Diego (I have experience coordinating political speaker tours in northern and southern CA). I have worked for the local Board to make a collective commitment to a matching fund to stimulate on-air donations, and have advocated for Board training in implemented a well-crafted planned and legacy giving program.
6.
Is there anything else you would like prospective voters to know?
I am a member of the Grassroots Community Radio Coalition. I oppose dividing the staff by segregating the unpaid staff, or stripping the LSB of all oversight and governance responsibilities. In the post-George-Floyd era, it is long past time for KPFK and Pacifica to commit to anti-racism as a key principle of its own internal functioning. That's why the Grassroots slate is predominantly BIPOC people, and half women.