Statement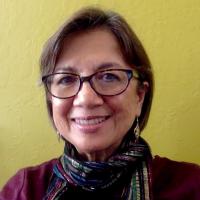 In my many years working at the intersection of immigration, race and human rights, I have come to deeply appreciate KPFA's commitment to uplifting diverse community voices, bringing insights into critical issues, and supporting our collective efforts for a more just and peaceful world. And I was humbled, in 2007, to receive a KPFA Peace Award for the work I have done for peace and social justice. As a KPFA guest, I've been honored to contribute to KPFA's awareness-raising. Especially today, more than ever, we need to continue to make the connections on immigration and race, and with climate, gender, racial and economic justice. As the former director of the National Network for Immigrant and Refugee Rights, and in my work in the international arena with groups like the Women in Migration Network, I know that also making the links – local, national, global – is vital to a truly informed public. I am proud to support KPFA's endeavors to do just that. Please vote for me and all of the KPFA Protectors candidates in the KPFA Local Station Board Election. Go to kpfaprotectors.org for more information.
Answers to Candidate Questionnaire
1.
What experience, connections, skills or traits would you bring to the local station board to advance the station's mission?
I have almost 50 years of experience as a local community organizer and as a national and international policy advocate. My experience in the fields of immigration and human rights have provided opportunities to connect and engage on many issues, including the environment and climate change, jobs and employment, health care access, education, women's rights, and racism and xenophobia. I have participated in numerous alliances within the Bay Area, working with diverse organizations, sector and local governments. From a human rights perspective, I understand the deeper, systemic issues, as well the day-to-day and lived realities of local communities, especially communities of color, and have shouldered many "communications" tasks to reach specific audiences as well as the broader public.
2.
What do you appreciate and value in the station's current operations?
As a listener, I've appreciated the range of programs, including the willingness to "go deep" on issues, well beyond the coverage we get with mainstream media. The diversity of people interviewed. I've also been honored to be an invited guest on different programs, where I have had an opportunity to address current events and also provide analysis and perspective on complex issues.
3.
What would you like to see improved or changed in the station's current operations?
I would just like to ensure that the station can carry out its commitment to address diverse audiences, as well as complex issues. This can also include going beyond the programming itself to "going out" to communities to host programs, conduct interviews, engage beyond the studio. Actually develop a presence in communities.
4.
Describe what you anticipate would be your top three priorities or areas of focus if you were elected to the local station board.
I have served on various boards at different levels, and certainly a key role for any board member is to pay attention to the financial health of the organization. I would want to ensure programming consistent with the priorities of the station, and also provide access and stability for staff, who have played such a key role in the popularity of this station.
5.
Sustainability is an important part of any nonprofit operation. What are your thoughts on how the board can help to improve the station's financial footing?
I certainly agree with this responsibility. As a board member I would like to get a closer look at the financial health of the station, ensure that there is a solid fundraising program that meets the budget, and that there is planning to build towards innovations and anticipated increased budgets.
6.
Is there anything else you would like prospective voters to know?
As a long time activist for social and economic justice, I really value the importance of reaching and giving voice to diverse communities, and building shared learning and values. KPFA can be a greater contributor and enabler in these missions. As a founder, director, and board member of various organizations, I also understand the tasks for building sustainable, democratic and healthy institutions that can survive and grow, in politically and economically hard times, in order lay the foundations for a better world.