Statement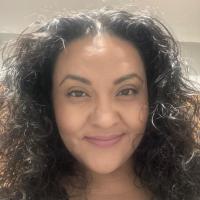 I am running once again for the LSB because of my strong belief in participatory democracy, which is what the Pacifica Foundation and affiliated station networks, like KPFK, represent. KPFK is a people powered radio station that must be preserved as it was intended to be.
Shared governance within any organizational or institutional structure is rare, and that is why KPFK is one of a kind. For listeners like myself to have a voice and position within the governance structure is a gift that is rare in this corporate driven capitalistic society.

I am a bilingual Angeleno with a background in political science, education research and program evaluation. I have a BA from UC Berkeley in Political Science and Development Studies and Masters Teachers College and Doctorate from Columbia University in Comparative and International Education. I have served as a parent educator in a local public neighborhood school and president of my neighborhood council. I am a local progressive activist, public education advocate and community organizer dedicated to social justice reform in aspects of societal life. I firmly believe in KPFK's mission statement as it represents much of my life's mission and values. I believe in educating the people for societal transformation as exposed by Paolo Freire work. I have traveled to various countries conducting research and delving into various cultures, education and political systems. Some countries include my native country of Mexico, Bolivia, the Republic of Georgia, Argentina, Chile, and Tanzania.

In the last seven months, I immersed myself as much as possible to understand in a holistic manner all that encompasses KPFK by participating in various committees, such as the finance, governance and programming; in addition to being elected by the LSB to serve on the General Manager Search Committee, which was the most fruitful and gratifying experience thus far. Serving on the latter committee and attending meetings with an active listening ear and mind has helped me understand the totality of what KPFK entails as a progressive institution, people powered radio station, group dynamics/factions, etc.

I firmly believe that KPFK is worth preserving because of the exponential potential to build a greater presence in LA's air waves and beyond spreading the voices of the people. The LSB must be productive and focused on systematically monitoring finances and attracting a wider generational and multilingual audience with a more locally driven programming. The annual fund and donor contributions cannot be the sole economic sustainment for KPFK. Thinking outside the box by incorporating multimedia mediums to extend the active presence of KPFK programming and voice is essential for the station's survival and innovation. Strategic outreach for local volunteer programmers is essential in reaching the talent in Los Angeles.

I would be honored to have the continued opportunity to serve on KPFK LSB, which is keeping democracy in media alive for the empowerment of the people. I hope I can count on your vote to make that a continued possibility.

Answers to Candidate Questionnaire
1.
What experience, connections, skills or traits would you bring to the local station board to advance the station's mission?
I am a hard worker, committed and a critical thinker. I like to finish what I started and don't give up easily. I work well with others, listen intently, and treat others as I would like to be treated. I bring forth my knowledge and perspective as a bilingual Latina. I have been an Angeleno all my life and know this city politics, demographics, people, neighborhoods and all that Los Angeles encompasses.

I am a local organizer/activist residing in northeast LA involved in progressive movement and organizations within my community and throughout Los Angeles and California. I understand the local issues of everyday people and complexities they (we) face in a capitalist global society and economy. I strongly feel that an informed community is an empowered community that can overcome oppression and exploitation.

From my professional background in education research and program evaluation/analysis, I share analytical and communication/writing skills. I am person that is able to see all sides of an issue/situation as objectively as possible, by sticking to the facts and not personal agendas or unfounded claims.

2.
What do you appreciate and value in the station's current operations?
I appreciate all the individuals working to keep KPFK viable and staff members and high number of volunteers that dedicate their time, energy and ideas to the station. I appreciate very much the alternative voice and information provided in the local programs that is missing from other radio stations. And I do appreciate and value Sojourner Truth with Margaret Prescod and Democracy Now! due to the discussions and perspectives on various topics that the show covers that are rarely heard in depth on other stations and media outlets. I also love to listen to Global Village with Sergio M., Kathy Diaz, Reggae Central, Pocho Hour of Power, Soul Rebel Radio, Break Beats and Rhymes, Nuestra Voz, Move the Crowd and last but not least Covid, Race and Democracy.
3.
What would you like to see improved or changed in the station's current operations?
The local programming-need shows with more local and current topics and issues, particularly that which affects the marginalized, oppressed and exploited; need a local morning show and more programming aimed at new diverse bilingual audience/listeners. The station would widely benefit from incorporating more multi-media technology/mediums to expand the presence and "voices" of KPFK. The programming has to remain consistent, dynamic and relevant and this can be done with a strategic vision, goals and plan. But all of this work for improvement has to be done in collaboration and cooperation with the General Manager and all KPFK staff with constructive feedback/suggestions from the LSB. We all have to work together and stop the divisive factions that are impeding the progress and vigor of KPFK and Pacifica overall.
4.
Describe what you anticipate would be your top three priorities or areas of focus if you were elected to the local station board.
I would like to focus on supporting the new General Manager as much as possible in providing for a more diverse local programming, more active outreach via social media outlets; creative and productive fundraising ideas; and more community outreach utilizing myriad ways to reach as many people as possible.
5.
Sustainability is an important part of any nonprofit operation. What are your thoughts on how the board can help to improve the station's financial footing?
Fundraising events/ideas have to be creative and appealing to listeners in order for them to tune in and donate. Listeners want to be a part of the shows and station and KPFK has to make that accommodation by creating a more welcoming environment and incorporating ways to bring in the listener more intimately connected, which can be done by providing space for critical constructive feedback. Fundraising using various media outlets, podcasts, live shows, town halls, special speaker series, silent auctions, etc. Maybe even gala events/concerts for donors and listeners to attend and donate.
6.
Is there anything else you would like prospective voters to know?
I am dedicated to Pacifica and KPFK. I have not missed one LSB meeting. I want to be part of the work that makes this organization realize its fullest potential. KPFK is a valuable Los Angeles radio communications asset and must thrive! I vow to do all that needs to be done to make that happen.