Statement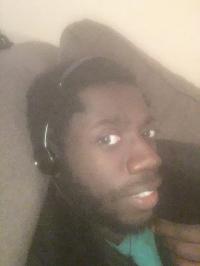 Yo! I'm someone special with many names, Yaw, Francis, Poncho, Big Head, but this year, I'm using my head , eyes and ears to serve WPFW 89.3 FM Washington and to get involved in the local DMV community. For local station board, I can deliver many ideas and assets to the radio station in order to make it grow. I'm a big lover of jazz and justice so music and social commentary is one of my strong suits. Increasing the diversity and range of the radio station is important in my opinion and I believe may help attract more listeners local and abroad. Furthermore, I would be heavily involved and interested in the technical stuff behind the scenes such as equipment, scheduling, fundraising among others. This opportunity will be rich with experiences for me and course many others. I've been a fan of WPFW for almost 10 years and it is a vital resource to many. As a matter of fact, if I'm even listening to the radio nowadays - it's WPFW. It's the voice of the voiceless with it's programs on social issues, culture, current events, politics mixed in with the sounds of many genres such as jazz, salsa, house music, Africa and Caribbean music and many more. I'm getting involved because I have discovered many gems and jewels on this radio station and this is me returning the favor and investing myself into it's future success. Being active in the seasonal drives and local events being hosted is one of the few things to get my feet wet in this lake of community activism. I want to my technical skills and industrious drive to use for you guys. So getting involved is the first step into making my local radio station, WPFW, grow further into the minds and hearts of it's listeners.
Answers to Candidate Questionnaire
1.
What experience, connections, skills or traits would you bring to the local station board to advance the station's mission?
Well I'm a member of Nefta Freeman's Pan-African Community Action organization, a self-taught Civil Engineer and a self taught artist. I have an introductory knowledge of economics, the Spanish language, history, and social justice. This is due to the exposure of WPFW enlightening my mind for the better. I'm industrious, sharp and guided by a moral compass in which I believe will advance the station's mission.
2.
What do you appreciate and value in the station's current operations?
I enjoy the scheduling of the stations on the weekdays and weekends. On the weekdays, there is more news/current event programs to listen to while driving to or from work while during the week while listening to the various genres of music during the weekends when going to cookout or returning from church. Another is the use of social media to notify the community of local events happening around the DMV area. It may be difficult to record information on the radio station while driving, the station's social media is a great way to search for information.
3.
What would you like to see improved or changed in the station's current operations?
One thing I would like to see improved is more diverse music and different genres of music during the weekdays. The use of Jazz has defined this station and I believe the addition of more different types of music during the afternoons can attract more local ears. Another thing to be improved on is the Archives on the WPFW website. I would like to see more shows being available to download.
4.
Describe what you anticipate would be your top three priorities or areas of focus if you were elected to the local station board.
My three top priorities are Program Development and Scheduling, Fundraising and Budgeting, and Community Outreach. These 3 are related to each other and if elected on the Local Station Board, reveal detailed plans and ideas on the advancement of each.
5.
Sustainability is an important part of any nonprofit operation. What are your thoughts on how the board can help to improve the station's financial footing?
One methods of the use of fundraising is holding competitions that the community can participate in such as a bake-off, poetry recitals etc, in which our audience members can demonstrate and be exposed on air or social media. In turn the station can have these competitions during the stations' seasonal drives to maximize revenue.
6.
Is there anything else you would like prospective voters to know?
Elect me!