Statement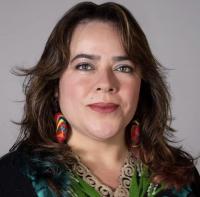 Proudly serving the communities of Los Angeles County. I served as an Elected Official on the Lennox School Board for over a decade. I'm a lifelong L.A. County resident, Shop Steward for Local 721 & dedicated Mother of 3 boys, 2 of whom proudly serve in the military.

As a first-generation immigrant in a union household, it has been instilled in me the values of hard work, compassion, fairness, and community contribution. I have put forth these family values at every position since high school. Starting with my first job selling chocolate door to door at the age of fourteen. From then on, community outreach became a passion, even now going door to door during a pandemic offering vital programs and resources to the same community members. The mission of improving the lives of others and their families towards a thriving common destiny as a community is a lifelong focus.

My background reflects a body of work geared toward service to others. My socio-economic challenges became my motivation to clear the path for future generations. After college, I sought to work for non-profits, among them was Hermandad Mexicana Latino Americana with the late Nativo Lopez at Saint Luke's Episcopal Church in Long Beach. This was the first of many non-profits endeavors that brought about great satisfaction in serving the most vulnerable. My work history became more of a self-discovering path that brought about great courage within me. For example, working as a Child Counselor in a foster group home broke my heart. The system that is intended to serve these children has ways to go in truly aiding their success. Currently, I serve the public in system navigation and resources within the Los Angeles County Department of Health as a Community Health Worker.

Community involvement has been one of volunteer work in the development of leadership for my beloved community of Lennox. I lead efforts to bring about a Lennox chapter of the Mexican American Political Association (MAPA). MAPA Lennox was the first among many platforms that I founded, co-founded, and supported to bring about leadership in Lennox. Youth Awareness Program, Lennox Arts and Culture Committee, Saint Joseph's Health and Wellness Committee, Danza Azteca, Lennox Tree, Vomito Local, Lennox in Solidarity, Sirculo, L.A. hands of CUBA Committee, Club de Migrantes, and the L.A. Community Fridge. Recently, I organized efforts to bring a community fridge to counter food insecurity in Lennox. Lennox fridge is currently at La Playita Market for the community to partake in and enjoy.

My success as a previous School Board Member and as an ongoing Community Activist is attributed to open lines of communication among all stakeholders. My integrity, "Mujer de Palabra" sets my strong track record in supporting students, parents, teachers, and classified employees during vital times. I continue to stand by my lived experience, my truth, and my word that make me who I am today!

Answers to Candidate Questionnaire
1.
What experience, connections, skills or traits would you bring to the local station board to advance the station's mission?
My life's mission resembles that of Pacifica's in that we aim at providing educational opportunities to the public. As a grassroots activist, I bring along my community. As a previously Elected Official serving on the School Board; I bring along local, state, and national organizations (e.g., LACSTA, CSBA, CLSBA, NSBA, NALEO, YEO, HLI, HOPE). As a non-profit Assistant Director with La Angelita de La Noche, Josefa Salinas on the Community Review, I bring along my love for service. My personal life values reflect that of Pacificas.
2.
What do you appreciate and value in the station's current operations?
I appreciate the vast and diverse voices presented to the people through the airwaves. I value the wonderful listeners like myself who tune in to be informed and enjoy themselves.
3.
What would you like to see improved or changed in the station's current operations?
I would like to explore a broader range of voices for our listeners. It is important to balance various points of view on any given issue. It would be great to continue to encourage different world views in order to entertain any given idea presented to the public.
4.
Describe what you anticipate would be your top three priorities or areas of focus if you were elected to the local station board.
1. Collaborate in unity among board members to seek win-win scenarios that will benefit the station and in turn our listeners.

2. Maintain Pacifica by and for the people... Away from corporate agendas and interests!

3. Explore on-air program ideas to attract and create new loyal listers.
5.
Sustainability is an important part of any nonprofit operation. What are your thoughts on how the board can help to improve the station's financial footing?
I've worked up until recently in the world of non-profits since graduating college in 2004. I learned that fundraising is a focal point in sustainability and fostering relationships is a must. It is vital to recognize those at the helm of fundraising efforts to be able to learn from their experience. I would suggest asking open-ended questions among board members to encourage brainstorming sessions with the end goal of bringing all our resources together. The vast network that we all encompass as a board will bring fruitful connections and innovative ideas.

**With the support of the board, I would like to propose a "Pacifica Unity Conference" to bring hosts, guests, listeners, and friends together once a year to fundraise, network, learn and celebrate our diversity.
6.
Is there anything else you would like prospective voters to know?
I would like voters to know that I am one of them. I'm a long-time listener and KPFK supporter. I am blessed to be given the opportunity to raise my consciousness and evolve as a person thanks to our beloved Pacifica. I am the first in my family who attended higher education and became aware of our social power structures thanks to all the empowering programming offered. I volunteered at KPFK in gratitude for all that was given to me by Listener-Supported Independent Radio. For example, I became ready and available to work with Margaret Prescod at the age of 24 when we attempted to bring about "Sojourner Youth". I answered the phone lines to take donations for the station. I was also present at the crack of dawn a few times live at the station with Fernando Velazquez's Informativo Pacifica (Spanish language News). The political is personal and the personal is political. LA County communities like my beloved community of Lennox benefit from free public radio and I will continue to do all in my power to maintain our airwaves independent. I know what it takes to reach the "American Dream" as a first-generation immigrant from San Ignacio Cerro Gordo, Jalisco, Mexico. In a country of opportunities, people need to become aware of all that is before them to make informed decisions towards a quality life of their choosing.