Statement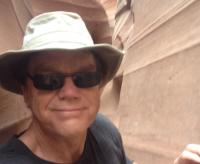 I am a research physicist at UC Berkeley and a current member of the KPFA LSB. I am also a member of an affinity group called Rescue Pacifica whose vision for Pacifica is outlined on their website (https://rescuepacifica.net/). I believe that volunteer work, showing up for civic meetings, is critical to the health of the community. I'm involved in a half-dozen local to national political groups fighting oppression and corporate power. As an avid listener, I feel KPFA is one of the Bay Area gems, especially with shows such as Flashpoint, Hard Knock, and Project Censored. However, I also see room for improvement as a community radio station evolving in a changing media environment that needs to serve a younger, more diverse demographic to remain viable. My primary interests are keeping KPFA corporate free, improving programming, and bringing some sanity to the LSB.

Over the last two years on the LSB I have witnessed a number of actions by other board members that have disheartened me. Some of these actions are described in my Counterpunch https://www.counterpunch.org/2021/06/11/a-rebuttal-to-the-kooky-protecting-pacifica-article-by-kaldveer-and-gendelman/
This faction (which goes by various names - UIR, New Day Pacifica, Pacifica Protectors) has done a great disservice to Pacifica, to KPFA, and to its listener members. When I joined the LSB, I envisioned a progressive environment of cooperation and respectful dialogue by LSB members, but instead found myself in the minority on a dysfunctional LSB controlled by those behind numerous shenanigans and power grabs. Their actions include: 1) the installation of an Executive Director (ED) who shut down the New York station (WBAI) in the middle of its fund drive and without notifying the Pacifica National Board - PNB); 2) the subsequent attempt to retroactively validate this action by shutting off microphones of PNB members; 3) the misallocation of $80,000 in KPFA funds as retainer fees for a lawsuit against Pacifica by the suspended ED (policy require PNB approval for large fund transfers); 4) several attempted lawsuits by UIR members (Goldmacher, Turner, Huggins) to wrench control of Pacifica away from PNB; 5) two costly bylaws elections that would solidify their control; and 6) the failure to notify the LSB that KPFA had not paid property taxes for 7 years – an action that nearly resulted in the loss of our building.

As a board member who was silenced by the UIR faction, I remained a witness to their actions. The dysfunction described above is not structural. It is the result of a faction who doesn't believe in the vision of community radio and instead wants to transform Pacifica into a top-down corporate structure. Therefore, I ask you to vote for those endorsed by Rescue Pacifica so we can bring some sensible dialogue and functional operations to the KPFA LSB. I pledge to work to make KPFA not only more responsive as a community radio station, but also to make it a beacon of anti-war, anti-oppression reporting where voices can be heard that do not appear in main stream corporate media.
Answers to Candidate Questionnaire
1.
What experience, connections, skills or traits would you bring to the local station board to advance the station's mission?
I've been a KPFA LSB board member for 2.5 years and a member of the Pacifica Audit committee for that time. I have budget experience generating multi-million dollar budgets for NASA projects at UC Berkeley. I have an even temperament, don't get defensive, and know how to get along with people and engage constructively in dialogue.
2.
What do you appreciate and value in the station's current operations?
I particularly like the author interviews which introduced me to dozens of books on a variety of topics. I particularly enjoy Flashpoints, Hard Knock and Project Censored. I also appreciate live coverage of protests and activist interviews.
3.
What would you like to see improved or changed in the station's current operations?
More programming coverage of local events and greater emphasis within the news department for stories not covered by mainstream media such as: the incarceration of Julian Assange, US involvement in wars of oppression, more coverage of Africa and Asia, and giving greater voice to youth, labor, anti-war veterans, LGBTQ, and POC. I'd also like to see management develop a good working relationship with the entire LSB rather than using LSB officers to shield management from scrutiny, or act as gatekeepers for any questions. Better communication between staff and the LSB would include a dialogue about any conflicts between staff and management at stations. This would better help us perform out duty to evaluate the GM on a regular basis.
4.
Describe what you anticipate would be your top three priorities or areas of focus if you were elected to the local station board.
a) Transparency of management including timely audits and regular meetings with the General Manager.
b) Bring back the Programming Committee to help expand outreach, listenership and news reporting not found in mainstream media.
c) Create an environment on the LSB where people are not silenced and board business can be accomplished in a timely fashion.

5.
Sustainability is an important part of any nonprofit operation. What are your thoughts on how the board can help to improve the station's financial footing?
The first task is to expand listenership and membership and that means increasing visibility especially to those under 40 and POC. KPFA board members, staff and volunteers need to be present at bay area events with banners, literature, and microphones recruiting members. Political events should be covered live and include interviews with participants so that the plethora of bay area organizations can symbiotically work with KPFA to enhance each other's impact on the community. KPFA should work with cities and community leaders to sponsor KPFA day events with music and interviews. KPFA should develop a website with the best of its historical programing that includes a tip jar for those who want to listen.
6.
Is there anything else you would like prospective voters to know?
Many of the financial ills that Pacifica has faced over the last decade are the result of entrenched interests attempting to control programming, or gain control over the network, rather than building community radio that serves community interests first. This myopic vision of Pacifica must change and the election of Rescue Pacifica members to the KPFA LSB would be a step in the right direction.