Statement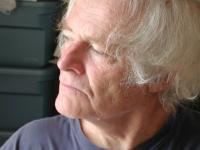 Asked why I joined the Marine Corps (1959 to 1963) I say "Where I grew up, there was no KPFA or Pacifica Radio affiliate." There was a constant corporate drumbeat of anti-Communism, always pretending to advocate for democracy while backing dictators.

During the McCarthy Era, KPFA bravely exposed lies of Cold War propaganda. KPFA opposed the Vietnam war. Recently however, while some programs steadfastly question the never-questioned, others increasingly echo corporate media's support for imperial policies abroad. Establishment groupthink is replacing KPFA's anti war voice.

I oppose the financially reckless New Day bylaws. ND'ers kept the old bylaws' worst parts and excised provisions for progressive oversight. Rescue Pacifica allies on Pacifica's National Board finally caught audits up and are on track to staunch Pacifica's longtime bleeding which KPFA "Protectors" for years exacerbated during their dominance as the national majority faction. As U.S. voters demand equal access, Pacifica needs to pass ironclad policies encouraging members to steward their network and restore financial health. Rescue Pacifica has for years urged KPFA to get better integration with web-based media as a major component of financial sustainability, and KPFA management is FINALLY starting to go along with that.

Pacifica includes five sister stations and over 200 affiliates. While corporate media reportage remains limited to views of the two-party system, the need to keep our network together is greater than ever. It would not be cozy to have our own separate station here in the Bay Area, as though separate from finance-driven demands of global capital. With climate change and multiple ongoing wars, our progressive and antiwar voice must go everywhere.

This means defending our network against Pacifica-bashers. We must work amicably with all the stations in the network, and, most importantly, we must oversee our own local station. An LSB duty is to evaluate the General Manager every year -- this has not been done for about five years.

We must resurrect the Program Council, whose task it is to evaluate programs, both new and old to ensure that programming is relevant and robust.

Transparency and accountability is our objective. Our job includes asking even unwelcome questions. Fellow board member James McFadden was "censured" by the majority faction at KPFA for writing an article which apparently caused some discomfort. It's at
https://www.counterpunch.org/2021/06/11/a-rebuttal-to-the-kooky-protecting-pacifica-article-by-kaldveer-and-gendelman/

When the New Day faction voted to censure James, I reminded them that I also write articles, and they told me, "You will be next!"

As a board member I ask questions, represent and report back to listeners. My articles are at several websites, including my own at http://danielborgstrom.blogspot.com/

The most important goals of Rescue Pacifica are to preserve our Pacifica radio network and return KPFA to it's traditional antiwar voice.

Daniel Borgström

http://RescuePacifica.net
http://PacificaInExile.org
http://PacificaFightback.org
http://PacificaDemocracyProject.org
http://danielborgstrom.blogspot.com/


Answers to Candidate Questionnaire
1.
What experience, connections, skills or traits would you bring to the local station board to advance the station's mission?
For the last two and a half years I've been a member of KPFA's LSB. Before that, for over a decade I attended numerous LSB meetings and wrote articles about KPFA. Please see my website http://danielborgstrom.blogspot.com/

My time in the Marine Corps (1959-1963) has given me some insight into the military machine which defends the empire (not our freedoms). As an ex-GI, I participated in veterans antiwar actions during the Vietnam era. Friends have accused me of having a Cookie Monsterish hunger for history. I admit I love to read history and seem to retain quite a bit. Historical context is crucial in helping to stave off the relentless torpor-inducing corporate media groupthink. I often notice amazing historical snapshots that speak volumes in explaining current doings. Over the years I've been active in various progressive organizations, including Occupy Oakland, the Lake Merritt Peace Walk, and Veterans for Peace. This summer I took part in a BDS action--picketing and preventing the unloading of the Volans, a ZIM-chartered ship, in solidarity with the Palestinian people.

From these experiences I've seen repeatedly how the corporate media covers (or doesn't cover) and often misrepresents protest events which KPFA needs to be covering.


2.
What do you appreciate and value in the station's current operations?
Some of my favorite programs are Project Censored, Richard Wolff's Economic Update, Ralph Nader's show, El show de Andrés Soto, Hard Knock Radio, Full Circle and the new show East Bay Yesterday. And I like Mitch Jeserich's show when he has guests talking about historical topics.
(I tend to listen mostly to the late morning and early noon shows.)


3.
What would you like to see improved or changed in the station's current operations?
The KPFA weekday news, both morning and evening, relies far too much on corporate wire services. Reports are too often read off the wire, a practice called "Rip and read." Independent and progressive sources need to be included more. "FSN" - Feature Story News, not to be confused with sadly defunct FSRN, is a generally conservative or at best neoliberal pre-packaged commercial source on whose clips KPFA routinely relies. While many are fooled by a lately more prominent (and crucially needed) promotion of cultural diversity, it's important not to let this distract from interrogating sources and challenging stock government and corporate press releases such as those ultimately promoting neoliberal financing for the hourly destruction of our planet. So called "humanitarian" intervention, whether by extortionary finances, creating a worldwide class of starving displaced people, including here, or through drones and "independent" mercenaries (and some U.S. military troops) needs to be challenged significantly more, and named.

I'd also like to see more Spanish language programming.

Management needs to work together with the entire LSB, rather than using the chair and secretary as gatekeepers. The General Manager should, after giving his report at board meetings, stay in the room to take questions and give responses.

Local Station Board elections need to be better publicized! Talk about inviting financial health? How about a station that pays even a tenth the thought and effort in creating glorious, engaging promotion of LSB board elections as it does of U.S. national ones. Important? Yes for maintaining an amazing radio network independent of only large donors with whatever agenda. In past election recordings of the candidate's one-minute statements (called "carts") have been only sparsely played.. Debates of actual issues? Announcements of such? Forget about it in today's KPFA. This is not an accident. Working on KPFA's Election Committee in years past, I've seen the systematic purposeful curtailing of these elections by those in power. Ahmed Anderson, hired again by our GM, famously told earnest hard-working election workers finding themselves thwarted in getting equipment or airtime "I'm not going to help with that."


4.
Describe what you anticipate would be your top three priorities or areas of focus if you were elected to the local station board.
We need online interactive technologies to broaden our reach, including financially, which are not even new anymore. Rescue Pacifica has been urging these for years; this is one point where management does seem to be responding.

The current bylaws require that the General Manager be evaluated by the LSB. This has not been done for about five years. This will be a top priority.

KPFA used to have a Program Council to review and evaluate the station's programs until it was relentlessly sabotaged. I'll work towards restoring a Program Council.


5.
Sustainability is an important part of any nonprofit operation. What are your thoughts on how the board can help to improve the station's financial footing?
For years the station has been looking for more big donors. Okay, but let's be cautious about this. An over dependence on a small number of big donors is likely to influence the station's programming in a conservative direction. Even if such donors don't actually intervene, their presence can cause self censorship

The station needs to appeal to a wider audience of small donors and rely on its listeners for financial support. It would help to diversity the programming to interest and attract more listeners. An example I suggest above would be a program on military veterans' issues. Military veterans have high rates of homelessness and suicide. Many hundreds of veterans who lack citizenship have been deported. In my veterans group, Veterans for Peace, there are people who work on such problems affecting veterans. These people have a lot to say, experiences that we need to hear. There could be a regularly scheduled KPFA Veterans program.

See my answers here about web presence, and even LSB-election promotion and encouraging stewardship of our network to increase finances.



6.
Is there anything else you would like prospective voters to know?
The financial crisis is NOT new, and KPFA is not immune. In 2005, I remember several LSB members warning that our station was living beyond its means, hiring more staff than we could afford, burning through financial reserves. Year after year, those warnings went unheeded. There were crises and there are likely to be more at KPFA.

The roots of Pacifica's financial problems go back a couple of decades to the early 2000s, when the people in charge were the same group that is now promoting New Day.