Statement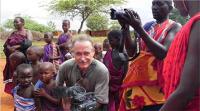 I am a three issue candidate for KPFK:

Funding, membership, programming.

KPFK presents an alternative to the radio / tv / print circuses of the corporations.

KPFK offers 24-hour, 7-day-a-week intelligent and challenging voices.

Activists, writers, academics, practitioners, musicians, witnesses, survivors ---- KPFK presents their experience and ideas to the world via radio and the internet.

And KPFK rejects commercial sponsorship. Corporations? Companies? Institutions? Political candidates? KPFK will not accept their money.

With commercial and political sponsors, come demands. KPFK will not accept those demands.

KPFK remains listener sponsored. Only.

I work international websites, video, and digital print-on-demand. In this way, I promote NGOs, develop projects, and publish information. I offer my experience to KPFK.

As a channel of information, KPFK presents many opportunities. Websites. Expansion to cellphones. Social medias. World membership. World programming.

KPFK must continue with progressive, values-based programing to fulfill the mission statement of Pacifica and our own humanist demands.

Cultural, ideological, spiritual, health programs will never win the numbers corporations demand.

Yet the Pacifica mission statement demands progressive, intelligent, and compassionate programming. KPFK must deliver that programming.

My issues: Funding, members, and programming.
Answers to Candidate Questionnaire
1.
What experience, connections, skills or traits would you bring to the local station board to advance the station's mission?
Writer, documentary maker, cameraman, developer of multiple projects in multiple languages and multiple cultures. Work in Central America, Middle East, Africa, Asia.
2.
What do you appreciate and value in the station's current operations?
National and international programming exceeding the shallow coverage of the corporate medias.
3.
What would you like to see improved or changed in the station's current operations?
Improved radio signal throughout Los Angeles and Southern California.

Better audio equipment for programs recorded off-site. Utilize free media such as FaceBook, YouTube, etc to promote programs and events.

And as Los Angeles is an international city of 100-plus languages and cultures, I want our local voices to add to the international coverage with interviews of people with intimate knowledge of foreign events. ( This will require audio and video equipment. )
4.
Describe what you anticipate would be your top three priorities or areas of focus if you were elected to the local station board.
Money. Membership. Programming.
5.
Sustainability is an important part of any nonprofit operation. What are your thoughts on how the board can help to improve the station's financial footing?
Exploit free internet media to offer live and scheduled programming anywhere at anytime to anyone. This will draw membership and contributions from everywhere in the world.
6.
Is there anything else you would like prospective voters to know?
Go to my website for information, experience, and documentaries: VideoAdventures.info --- http://www.videoadventures.info