Statement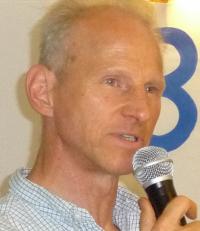 I am a filmmaker and have been a newspaper and radio journalist with various Haitian media over the past 40 years. I sit on the editorial board of Haïti Liberté, the largest Haitian weekly newspaper

I've worked closely with many media organizations, including Democracy Now, The Intercept, the Guardian, NACLA, The Nation and Wikileaks. As an anti-imperialist political activist, I have helped organize many demonstrations, conferences, tribunals, delegations, and press events.

My long experience with alternative media and progressive movements can be brought to bear on the challenges faced by WBAI. As New York's principal progressive radio station, WBAI must re-engage with our listenership, expand it, and find ways to renew their interest, faith, and passion in the programming and mission of this 60-year-old media institution.

As a kid, I used to be driven to WBAI from upstate New York by my mother, Jill Ives, who produced a show on Haiti in the 1970s. From 2001 to 2019, I was one of the producers of WBAI's Haiti shows – first Haiti: The Struggle Continues and then (name change only) Lanbi Call.

Part of my vision for WBAI's revitalization is to reach out to progressive parties, mass organizations, community groups, and media in the New York area to wed their outreach, bases, clientele, and political work to the station. Engagement with them will bring capacity, energy, and listenership. In the past two years, this process has begun, but it can and should be expanded and stepped up..

Furthermore, in this digital age, we must modernize the delivery of our programs, incorporating video as well as simplifying and streamlining the sharing of content on social media.

I have experience with the methods and tactics of many other progressive organizations seeking to survive and thrive in a hostile political and difficult economic environment, especially that of New York City. That includes not only groups around Haïti Liberté, but also everything from the 37-year-old Veye Yo community organization in Miami to our neighbor, the Park Slope Food Coop. We can draw from the experience of others for lessons on innovation and organization.

WBAI is essentially a coalition, which can be a source of dysfunction but also of strength. I have had years of experience working in coalitions, defining goals, hashing out demands, delegating tasks, and coordinating efforts. I am neither naive nor sectarian. We are all in the same boat. If the station goes down, so does every program. It would be an ignominious end to such a proud institution. We can do this. We must do this. Long live WBAI! Viv WBAI!
Answers to Candidate Questionnaire
1.
What experience, connections, skills or traits would you bring to the local station board to advance the station's mission?
Long-time journalist, analyst, and organizer.
2.
What do you appreciate and value in the station's current operations?
The alternative viewpoint it offers to the mainstream's narrative. Being non-commercial.
3.
What would you like to see improved or changed in the station's current operations?
Integration of social media avenues. Video of programs. More programming from and by producers and groups engaged in progressive social change.
4.
Describe what you anticipate would be your top three priorities or areas of focus if you were elected to the local station board.
Finding ways to raise money for the station, increase listenership, improve program quality.
5.
Sustainability is an important part of any nonprofit operation. What are your thoughts on how the board can help to improve the station's financial footing?
Organization of fund-raising events and initiatives and collaborating with fraternal organizations who can help enrich and improve the programming and the station.