Statement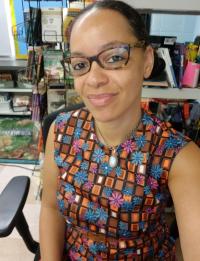 I grew up in California listening to KPFK, but when I moved to New Jersey from Japan in 2002 I was immediately drawn to listening to WBAI. I have not always understood the changes and challenges that WBAI has undergone. I wondered how could such a treasure ever be in jeopardy of a lack of funding or at risk of being challenged? I was devastated on October 7th, 2019, when I turned to the dial to WBAI and heard nothing but silence. But in my heart of hearts, I knew that WBAI was not gone forever. It could not be. What has brought WBAI from 1960 to the present, is the spirit of its purpose. It is too valuable a resource for the people of every hue, gender, culture, orientation, generation, social and economic status to lose it. No other radio station or institution has had their pulse on the heart of the people since1960 like WBAI. Nowhere else on the dial but 99.5 FM, can one listen and be enriched all day and night, without commercials or repetition of any kind. So, I trusted divine forces were at work in the hearts of WBAI leadership and listener-ship would save our lifeline to real time news on issues that matter most, focused on the under-represented, to the inspiration to be informed, stand up, and speak out, to enrich our educations on health, social and political science, mental health, innovations in science, musical explorations, and our historical legacies and connections. Needless to say, I care deeply about WBAI, for myself, the youth, my family, people I encounter every day, every community at large and the world.

I am a 20-year veteran in education with experience as a learning specialist, a special education, and English teacher, and an Associate Professor of English, with a demonstrated history of working in numerous roles throughout the education profession, from teaching elementary through High School Early College, mentoring new teachers, facilitating special programs, and working as a consultant with faculty and staff. I look forward to the opportunity to offer my skills, and insight, as dedicated open minded, critical thinking, truth, and justice-oriented personality.

I believe in the power of collective efforts for the greater good through the arts, literature, music, information sharing, organizing and direct action. I believe in community. I believe in truth, and justice and that with persistence in the fight for equal rights, justice will prevail. I believe that when members of a collective, with clarity of focus, do their very bests, they can make miracles happen. I believe that at times in life we must take leaps and have faith to progress. Together we stand and through our love for and commitment to WBAI it will continue to be the vessel of change the world needs.

Answers to Candidate Questionnaire
1.
What experience, connections, skills or traits would you bring to the local station board to advance the station's mission?
Though I have never run for a seat such as this I am experienced in communicating with others, listening with care, considering ideas, analyzing options, solving problems, being a creative thinker and staying calm during a crisis. I am an associate of Berthold Reimers.
2.
What do you appreciate and value in the station's current operations?
As a listener I have received more timely arrival of donation gifts, and communications with the station. This appears to be an improvement in operations.
3.
What would you like to see improved or changed in the station's current operations?
I would like to see more premiums and more of a variety of premiums. In addition, I'd like to see premiums that correlate with the programs on the air and many more quality WBAI gifts with the logo.
4.
Describe what you anticipate would be your top three priorities or areas of focus if you were elected to the local station board.
My first priority would be to orienting myself with the current issues at hand and the recent history of the station's operations. I would also prioritize networking with board members in order to gain a rapport and learn my role and how I might be most productive. Lastly, I will research ideas and direct my creative, critical thinking skills to fulling any task my role requires.
5.
Sustainability is an important part of any nonprofit operation. What are your thoughts on how the board can help to improve the station's financial footing?
Bi yearly survey to members to determine types of services, experiences, or gifts which might best serve them. Possibly more and different outreach to members on how to contribute time to support the station. I know the website has taken thousands of hours to develop but modernizing it or upgrading and making the website more present on social media platforms might increase listener-ship. Perhaps the website could also host a video series about the hosts.
6.
Is there anything else you would like prospective voters to know?
Listening to WBAI is moving into the future with you. Help me contribute to grow it for all of our generations and those yet to come.
I AM ENDORSING and highly encourage you dedicated WBAI listener members ALSO VOTE FOR:

• Ms. Scottye Battle
• Priscilla Cancar
• Stephanie Byers
• Benjamin Garron—Caine
• James Dingeman
• John Hoffmann
• Katherine O'Sullivan
• Matthew Reiss
• Michael White
• M. Kay William
• Bruce Grief
• Joseph Graziose