Statement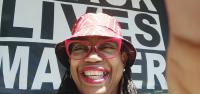 As a community activist, I have spoken at public comment at KPFT community meetings to address issues (programming, lack of diversity, unfair labor practices, racism within) pertinent to my community. However, it was as if I speaking into the air or to deaf ears because the board did not listen to or address issues put forth by me , the people, the audience or programmers. It is my desire to serve on the board to interface with KFPT and be of service to let the community know what is happening at KPFT so they (the community) can assist KPFT to live up to itz original soul. We need people on the board to have a listening ear and to be that voice and link between the station and the community.
An "edutainer", I use the arts and entertainment to address the many social service issues with which the community is faced. I am a part of the arts community that has been and wants to continue to be involved with the "real" KPFT. I want to work with individuals who have KPFT's best interest at heart, not any hidden agendas or personal interests. I bring diversity as a black woman who works on social justice issues, which is sorely missing from the airwaves these days.
Weaving tales of herstory/history from Third Ward, the South, and the African diaspora, I am an "edutainer" poet, playwright, actor, storyweaver, motivational speaker & author. These experiences will allow me to further the mission and community ideals of KPFT.
I have served on the CAB and volunteered with the programmers as well as appeared on shows. These experiences have given me an up close and personal view of the workings of KTSU and makes me want to be a part of. I want to see the passion, creativity, commitment and dedication to the community reinstated in KPFT. I was saddened not to see any quality local programming after the murder of George Floyd and the subsequent civil unrest. .Further, listening to KPFT's local programming, it was as if the January 6 insurrection never happened. KPFT must not continue to act as if it is an island in the midst of a troubled sea. In the past we looked forward to hearing responsible reporting on relevant issues. Yet now, this is surely not the case.
A vote for me is a vote to have caring involved representation extolling the virtues and fulfilling the original mission of KPFT. ASE!

Answers to Candidate Questionnaire
1.
What experience, connections, skills or traits would you bring to the local station board to advance the station's mission?
I am an organizer having worked with numerous nonprofit organizations thruout the US. The mission of Pacifica is to educate and train diverse communities and the strength and value of the media. I have a plethora of connections with educational organizations, For the last 40 years I have toiled in the vineyards of cultural art, storytelling for all genres. This has been intergenerational and intercultural work. My extensive work with community organizations has enabled me to develop and maintain effective contact and working relationships with community based and cultural organizations, funders, and business leaders. I possess superior analytical and interpersonal communication, public speaking, presentation and creative writing skills.
I come to provide skills with which I have been blessed~edutainment ... education and entertainment combined, infused with creativity.
2.
What do you appreciate and value in the station's current operations?
The operations that I valued were reflected in Pacifica's mission and what I would like to value is the cooperation between all parties to go back to and reinstate the mission of diversity and inclusion,
3.
What would you like to see improved or changed in the station's current operations?
Bring back Lew Hill's Pacifica!!
4.
Describe what you anticipate would be your top three priorities or areas of focus if you were elected to the local station board.
1. Reinstate cultural programming.
2. Pacifica should be a place where people work together and not fight.
3. Increase diversity & inclusion
5.
Sustainability is an important part of any nonprofit operation. What are your thoughts on how the board can help to improve the station's financial footing?
Increase the membership and the money will come from all listeners, all walks of life and from every every community
6.
Is there anything else you would like prospective voters to know?
I believe that I would be an asset to this position as I bring the commitment, skill, dedication and passion necessary to assist in the coordination and development of KPFT 's mission and programs. My past and present endeavors have reflected a genuine commitment to improving any and all endeavors I undertake. A native Third Wardian, I proudly flaunt the crimson & gold of Jack Yates Senior High School. I have the passion to represent these very strong and influential communities. I received a BA in Political Science from the University of Houston & Juris Doctorate from the University of Texas. Again, a vote for me is a vote to have caring involved representation extolling the virtues and fulfilling the original mission of KPFT. ASE!