Statement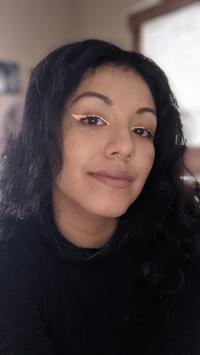 Karen Y. Martinez is an artist/filmmaker and communications professional from Hidalgo, Mexico; living and working in Houston, TX. She earned an MFA in Interdisciplinary Practices and Emerging Forms from the University of Houston in 2019. Her work explores latinidad, feminism, and belonging. Karen is a former member of the artist collective Mujeres Malas and the founder of Latina Filmmakers, a space dedicated to uplifting and sharing resources for Latinx Women. She also serves as a board member for the artist non-profit DiverseWorks.

Karen's latest works include collaborations with:
In Plain Sight Map, a national network of artists fighting to stop the detention of immigrants, Houston In Action's #HTownVotes initiative to promote civic participation during the 2020 election & an upcoming collaboration with Sin Huellas, an artist and activist collective formed to explore issues of borders, migration, detention, and deportation in the Houston, TX area.

As a DACA recipient, Karen is dedicated to promoting progressive causes and has worked with groups like Voices Breaking Boundaries, SEIU TX, Mi Familia Vota, United We Dream, Sierra Club, Tarsha Jackson for District B, the Tom Steyer For President, Penny Morales Shaw for Texas State Senate and most recently Alabama Song Houston.
Answers to Candidate Questionnaire
1.
What experience, connections, skills or traits would you bring to the local station board to advance the station's mission?
Over 10 years of experience in media production with a focus on filmmaking and campaigns. I am a 2021 graduate of the New Leaders Council program, which is a nationwide network of progressive professionals.
2.
What do you appreciate and value in the station's current operations?
I really like the talk shows that address community concerns and cultural values.
3.
What would you like to see improved or changed in the station's current operations?
I look forward to experimenting with audio to expand the way the station engages listeners and creates new experiences. In the era of the internet and digital media, people are hungry for content and refreshing takes.
4.
Describe what you anticipate would be your top three priorities or areas of focus if you were elected to the local station board.
1. Create more inclusive content that is appealing to Houston's diverse palette.
2. Produce visual media to advertise and uplift the image of KPFT.
3. Expand support for KPFT.
5.
Sustainability is an important part of any nonprofit operation. What are your thoughts on how the board can help to improve the station's financial footing?
As a board member, trust is my first priority. I look forward to building long-lasting relationships that will create a support network for KPFT.
6.
Is there anything else you would like prospective voters to know?
I appreciate your time and your vote. Let's continue to unite and move our communities forward. Thank you!