Statement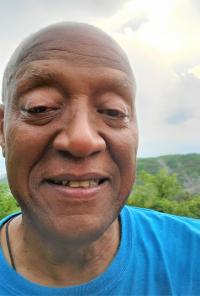 My name is Bill Curtis. I am running for Local Station Board, WPFW. I am asking for your Vote.

In 5 words, I can sum up why I am running for Local Station Board at WPFW:

"I just want to serve."

My background is entrepreneurial, professional, culturally aware, conscious, and business minded. I have supported and listened to WPFW since the 1980s.

With your Vote if I am elected to the WPFW local station board, my approach with a collective team will be 1) find a Solution through discussion; 2) create a method for implementing that Solution; 3) test our method (time permitting); 4) implement that Solution; and 5) track our results to see if we are hitting our mark or not. Of course, it is not a perfect science, but it is a framework.

Look at my past and current experiences. You may deduce that I am a culturally aware person, able to be professional but with a propensity for the grass roots, got entrepreneurial hustle and a broad range of sales and writing experiences over the past 40 years. Or more! Time flies. And time has flown me here.

May I have your Vote please? Vote for me, Bill Curtis. I have the time. I need your Vote. May I have your Vote, please. Thank you. Vote for me, Bill Curtis.
Answers to Candidate Questionnaire
1.
What experience, connections, skills or traits would you bring to the local station board to advance the station's mission?
I bring sales skills, a sense of cultural awareness and professionalism, entrepreneurial hustle, and a business mindset with a deep appreciation for culture and community advancement in the 21st century..
2.
What do you appreciate and value in the station's current operations?
I appreciate the commitment that WPFW demonstrates in broadcasting a broad range of progressive viewpoints talk, music and cultures.

The value I get from WPFW is this:

Value 1) Each time I tune in to WPFW, I open myself up to learn something new. Learning is a Value.

Value 2) For me a stimulated mind is an exceptionally beautiful thang. WPFW stimulates my mind.

Value 3) WPFW makes me pause and think. Whether I agree or do not agree with the program, I am guaranteed a mental exercise that challenges me to look at a situation from another perspective.

Value 4) I value my Donations during Pledge Drives. WPFW, as far as I know, is authentically Listener supported. When people Donate their money into WPFW, they (we, including lil'ol me LOL) authentically have a voice that is free to speak freely. This is the big value of Listener sponsored WPFW FM radio.
3.
What would you like to see improved or changed in the station's current operations?
In terms of broadcasting, can we broadcast more news and talk about victories (WINS). I recommend exploring how to include more victories (Wins) about situations, circumstances and/or struggles that result in victories (WINNING). Within the context of that win, tell the ABCs of it. What did people Do to pull off a WIN. I would like to hear more of those stories.

Woe and "Struggle" are cottage industries today; those stories are everywhere. But what about winning? Tales of victory, winning and being organized await to be told on WPFW. This is an opportunity.
4.
Describe what you anticipate would be your top three priorities or areas of focus if you were elected to the local station board.
.I am a team player. I will help with the collective effort that is agreed upon.

If elected, here are 3 priorities I would like to create with a team:

1) Help meet our promise to get premium gifts sent out expeditiously to Listeners who Pledge.
2) Help in discussions on how to seamlessly continue to establish an active awareness that A) Listeners make WPFW possible, and B) that Listeners' financial power powers WPFW.
3) Help in discussions on how A) to expand Membership and B) explore how to continue growing the number of Listeners who donate money.
5.
Sustainability is an important part of any nonprofit operation. What are your thoughts on how the board can help to improve the station's financial footing?
WPFW's website announces that "WPFW's air will be commercial free and in conformance with Pacifica Foundation resolutions prohibiting commercial under-writing of programing."

For WPFW, Listener financial support is paramount.

How do we expand Listenership? What new, old, and traditional ways did we use to expand membership over the past decades? What do we do now? I am willing to be part of this conversation for how to create financial sustainability for a Listener-Sponsored WPFW FM 89.3 FM. We are engulfed in a hyper-commercialized civilization (perhaps the word is hyper-hyper LOL commercialized civilization). This is a very tall order. I'd like to help figure this out for the 21st century.
6.
Is there anything else you would like prospective voters to know?
Past experiences

-Advertisement Account Executive under Mr. Kenneth Wilson, Baltimore Afro American Newspaper (Baltimore, MD). Spearheaded supplement – Shop Neighborhoods Week supplement – that highlighted local business in neighborhood retail corridors.

-Business beat Reporter, the former African American News and World Report newspaper (Baltimore, MD)

-Commentary and letters to the editor published in Baltimore Times newspaper (Baltimore, MD), Weekly Challenger (St. Petersburg, FL), Crystal Fountain Newspaper (Baltimore, MD), Urban Star newspaper (Baltimore, MD); San Francisco Bay View Chronicle (San Francisco, CA); Baltimore Sun newspaper (Baltimore, MD); Baltimore Afro American newspaper (Baltimore, MD)

-Publisher of community-based newsletter, Consciousness

-Created and developed guerrilla marketing strategy- The Talking Wall (Baltimore, MD)

-Original coordinator from idea to implementation of the Academic Achievement Awards Program sponsored by the former Stop Shop and Save Supermarket chain. Grew school relationships from1 to 24 schools as the supermarket chain expanded (Baltimore, MD).

-Developed and implemented a smaller Academic Achievement Awards Program sponsored by the former Mr. Lee's Insurance Agency at two schools (Baltimore, MD)

-Book Review Writer for Every Wednesday, a Baltimore Afro-American Newspaper publication

-Sponsoring Business, Soul Day, coordinated by Donna Baxter, (Pittsburgh, PA)

-Insurance Agent, Banker's United Insurance Agency, Mr. Bill Drake (Baltimore, MD)

-Owner Operator, Horizon Distributors (Baltimore, MD). Distributed business forms and advertising specialties

-Publisher, ezine Powerful Quotes

-Co-planner of 1st Annual Eastside Community Fair (Baltimore MD)

-Ghost writer, local party Voter Registration Committee

-Bachelor's degree, English Major, History & Philosophy Minor, Frostburg State College (now University)

-Co-Editor, College Literary Magazine, Bittersweet, Frostburg State

-President, Black Student Alliance, two terms, Frostburg State

-Resident Assistant, Frostburg State

-Senior Resident Assistant, two years, Frostburg State

-Founder, Black Life Club, "The Magnificent" Lake Clifton Sr. High School (Baltimore, MD)

-Editor, Aquarian Times school newspaper, "The Magnificent" Lake Clifton Sr. High School

-After expulsion from City College High School, given second chance at "The Magnificent" Lake Clifton High School (Baltimore, MD), the school that saved my life. Like no kidding

-Expelled from high school Baltimore City college (Baltimore, MD)

-Raised by father in his store, Curtis Community Store (Baltimore, MD)


Some Current Experiences

-Learning Word Press

-Volunteering as a Google Guide to help promote businesses and locations in a serious manner.

-Owner Operator, New Mark Flags & More. Supplies international flags, Pan African flags, custom flags, custom buttons and imprinted promotional items
.
-Recent retiree. 27 years, Community Development Block Grant (CDBG) office, Baltimore City government.

-Help build Trust Club Money Circle with 10 to 14 friends (and vouched for no-nonsense associates) over the past nine years. Circulated up to $1200 between each other every two weeks over series of months.