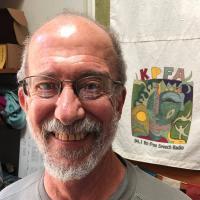 I have been a staff rep on the KPFA Local Board and am applying to serve another term if elected.
I first worked at the station as unpaid staff, then was paid as Public Affairs Depart co-chair.
I retired from the paid staff 10 years ago but continue as unpaid host/producer of the Sunday Show.
Given all the complications of KPFA's relationship with The Pacifica Foundation, I am quite informed about what's going on. My priorities will always be what is best for KPFA listeners and staff. This might seem obvious, but national Pacifica policy has frequently worked against KPFA in the last two decades. We need to be vigilant and protect the station from those who would sacrifice KPFA to benefit others.