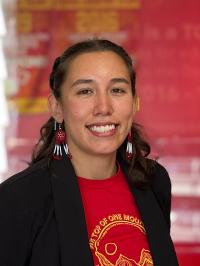 I Emma Auer am a candidate for the KPFA Local Station Board. In March of 2022 I was elected to the KPFA Community Advisory Board and was subsequently elected as the CAB Secretary. The KPFA Local station Board passed a motion at that meeting to support outreach for membership to youth and communities of people of color. This was important to me based on the demographics of our diverse Bay Area and into the wider KPFA signal range.

Although the Pacifica National Board changed the process of constitution of Community Advisory Boards, I was pleased to be able to help with the collecting of data from diverse groups of on campus students. This was shared with KPFA management who welcome community input as part of their programming decision making process. One of the key discoveries from our data was how much students are interested in coverage about mental health. They asked about stories and strategies to deal with stress, anxiety, depression and relationship issues. Other priority topics for students were: access to health care, abortion rights, housing, student debt. Gender, LGBTQ and relationship issues. They made suggestions about having KPFA programming on multi media platforms. I appreciate that KPFA cares about input from students and youth and my goal as a Local Station Board member would be to support continued communication in that area.

In April of 2023 I attended the Bioneers Conference as a representative and doing outreach for KPFA. One of my goals is to continue to build on KPFA's valuable relationship with Bioneerw in addressing the daunting challenges of climate emergency and the need for cultural vitality.

I attended UC Berkeley from 2016 to 2018 whee I organized with the student groups with the indigenous and native coalition retention and recruitment center to increase membership an raise funds for a school on the front lines of the DAPL protest. I later worked as a seventh grade math science teacher in Oakland, was on the site leadership council and the benefit committee working with HR and administrators to meet staff and student needs. As a teacher in Oakland I connected with many community resources including opportunities for integrating the arts into the curriculum with frequent field trips to the Oakland museum. I worked with many students and families who had recently immigrated to the United States.

As a candidate, I offer these curated resources, my organizational and outreach experience, team building skills and unique perspective on culture and community. Please vote for me for the KPFA Local Station Board and for all the KPFA Protectors endorsed candidates. Also endorsed by Aileen Alfandary, Brian Edwards Tiekert, Mitch Jeserech.