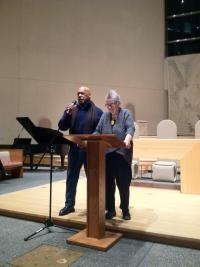 Ralph Poynter 500 WORD STATEMENT 2023
Ralph Poynter
ralph.poynter@gmail.com
You may know me as the persistent leader of the Free Lynne Stewart campaign and as the Host of WHAT'S HAPPENING on WBAI every Wednesday evening. After organizing thousands in Lynne's support, we won! Now I am continuing the fight for another important struggle: saving our essential community media outlet, WBAI. Raised by a union organizer, I first taught elementary school in Harlem, joining the United Federation of Teachers. But when the UFT colluded with management to support the racist Board of Education against Black communities; demands for Community Control of schools, I founded the Teachers Freedom Party and became a leader in that fight.
Much of my 60+ years of political activism has focused on improving our public schools.. My leadership facilitated appointments of NYC's first Black and Puerto Rican principals. Doing this required confronting the NYPD Army of Occupation installed to maintain ideological control of schools. In the course of self- and community-defense, I was convicted and served time on Rikers Island, where I organized fellow prisoners in one of the first successful prison rebellions, winning important concessions.
My primary focus now is freeing U.S. political prisoners serving unconscionable sentences and recently I have joined the fight for HANDS OFF UHURU and the right of FREE SPEECH which it represents
These sacrifices made possible the moderate civil-rights advances in the 60s and 70s, but many of them languish, forgotten. I'm also active in the Green Party and in the Black is Back Coalition, an organization dedicated to freedom for African descendants. With Betty Davis, I co-founded the New Abolitionist Movement, working to eliminate miseducation in NYC.
For over 30 years, Lynne worked as a People's Lawyer, defending social and political activists and causes. After what was deemed a too-zealous representation of Sheik Omar Abdel Rahman, she was jailed and disbarred, and was on probation. Her health challenges notwithstanding she successfully served as a change agent at WBAI.
I intend to use our experience to help save WBAI--so as to help save our communities and PUSH BACK the recent alarming trends of this system. We need to expand creative, progressive programming reflecting the struggles of diverse peoples, and helping develop new generations of broadcaster-activists.
We have the strength of will and intellect to help protect this valuable outlet from co-optation. We urge you to support the entire Justice & Unity camp; Unity slate--endorsed by Bernard White, Charles and Inez Barron, the International Action Center, and many others--I want to help restore WBAI to greatness. We are fortunate to have WBAI and must build it up and pass it on.