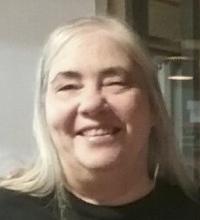 I am Sally Gellert. I joined Eco-Logic as a coproducer and cohost working with Ken Gale and Donna Stein in November 2020. During that attempted coup in October 2019 I was as shocked as anyone at the station takeover and attended the court hearings that got our station back. I also did volunteer data work for WBAI Fightback which was formed by listeners and producers to coordinate members and staff to get the vote out to save the station. Coming so close to losing everything just proved how special our station is, and I was glad to become a more active part of WBAI.

We need to act creatively to address our financial issues and to bring new listeners to all programs. Listener sponsored broadcast radio needs to stay relevant and fresh as it works to attract new audiences – at the same time we acknowledge the amazing work of our long time programming that made this station a staple around the listening area. WBAI has a rich history of being in the forefront of many movements --social justice, environmental justice, anti-war efforts and political resistance.

I am an active member of Radical Elders, InterOccupy, and Democracy Watch News, and a long-time environmentalist. I am a cochairperson of Unitarian Universalists for a Just Economic Community. I have been working with the Indian Point Safe Energy Coalition since 2011, and with the National Radioactive Waste Coalition. I see myself as a connector of groups working on diverse issues. Coproducing Eco-Logic on WBAI is a perfect home for my activism.

The COVID-19 pandemic made the past few years especially challenging, but WBAI likely provided a lifeline to many in lockdown. WBAI found a way to continue with producers broadcasting remotely. As Covid restrictions ease up, people will be looking for more in-person contact, which opens us to more varied fund-raising opportunities and community engagement. It's time to reinvigorate our audience—and our potential audience. It's also time to use new technologies and join them with broadcast radio's reach -- bring all generations to radio.

We have amplified the voices of so many who would not otherwise have a media outlet, but the Internet can overshadow radio if we do not find new ways of engaging listeners in this time saturated with podcasts, videos, and blogs.

The local station board needs people who will fight for fairness, who will be active participants in guiding the station into the future. Where are our listeners of yesterday and where are our listeners of tomorrow? Lets get to our roots and show old and new listeners what WBAI has been and can be. We are an important force. Our audience needs us. Our audience doesn't need the bureaucracy and infighting I have heard of in past LSB meetings. It is time to streamline and then stick to procedures. We have many decades of combined experience in our board members and with respect and hard work we can help WBAI stabilize and flourish. Please vote for me.