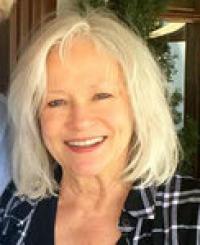 Hi. I am Sandy Childs. I am an artist, writer, spiritual counselor, greeting card designer, and a progressive thinker with a lifelong love of learning. And I'm about a 20 year KPFK volunteer. I left my day job in TV/film in 1995 and soon made the station my cause celebre and my home away from home.

I am a volunteer administrator in the pledge room during every fund drive to help KPFK continue to counteract the constant dumbing down of America with ubiquitous rightwing talk radio madness and dense commercialism on our airwaves.

I have served on the local KPFK board for the past three years. During that time, our team (www.candidateslate.org) replaced a dysfunctional management team with professional and experienced executives, helped improve programming (we think), and worked hard to save the network from certain bankruptcy.

Vigilance being key to KPFK's continuing to prosper and progress, I decided to run for the board again to make sure the positive changes that are now in place remain in place.

So, I am asking you to help our team keep KPFK's progressive mission alive and well and broadcasting to as many listeners as possible. Thank you for your vote!