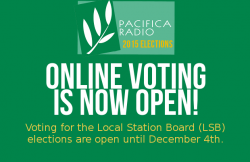 VOTE TODAY!
It's time to cast your vote for delegates for your Local Station Board.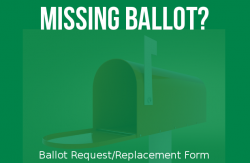 Missing Your Ballot?
Haven't received your ballot? If you haven't received your ballot or need a replacement click below for more information.
Learn more about "Single Transferable Vote" (STV)
The Pacifica elections for Local Station Boards use a system of counting votes known as "Single Transferable Vote" (STV), or "Choice Voting", which provides for proportional representation that is very different from "winner take all" systems that are common in most elections.
Report a Fair Campaign Violation
The goal of the Fair Campaign Provisions is to ensure a fair election process. Their purpose is to prevent staff, who have access to station resources, from having undue influence on listener elections.