Voter Guide - Pacifica Referendum 2021

– clic aquí para un guía de elector en español 
FULL TEXT DOCUMENTS
Full Text of the Pacifica ByLaws (click)
Full Text of the ByLaws Proposal (click)
GRAPHICAL COMPARISON
Pacifica's Current Governance Structure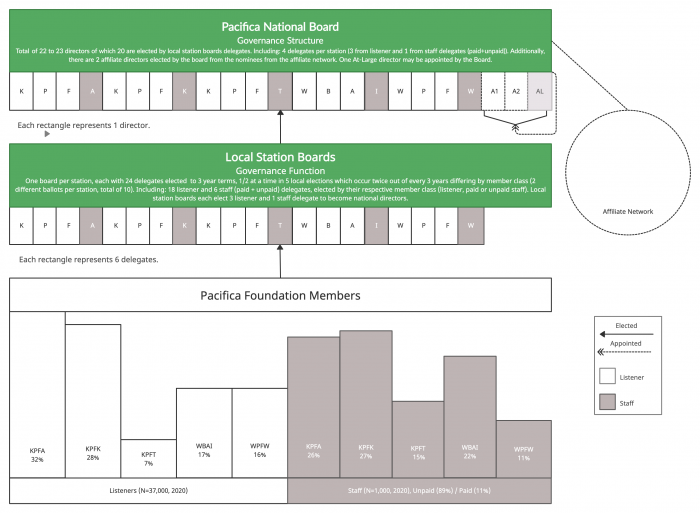 The Proposed Governance Structure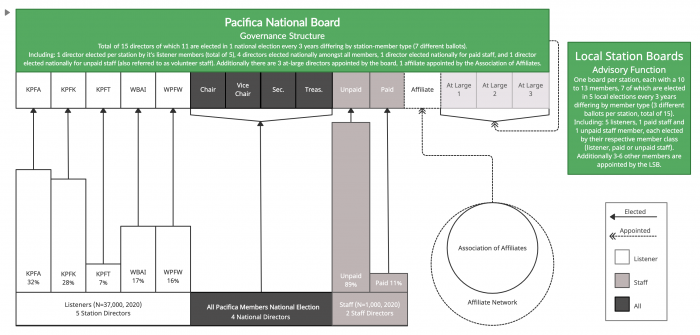 TOPIC LIST
The following topics will be covered in this voter guide. The election supervisor has identified these as key areas where the current and proposed bylaws differ substantially. Please write to nes@pacifica.org if you would like to propose a topic.
Discuss bylaws changes relative to:
1 – Changes to Voting Member Classification 
the move to 3 classes of members (paid, unpaid, listener)
2 – The Governance Structure
PNB restructuring related to: change in size (15 in the place or 22/23, 1 per station), changes in election and appointment processes for different types of directors (elected, at-large, affiliate)
3 – Role of At Large Directors
increased representation (from 1 of 22/23 to to 3 of 15)
4 – Eligibility of Board Directors
5 – Role and Duties of Board Directors
6 – Role and Duties of the Local Station Board 
move from a governance role to an advisory role (CABs)
7 – Transition Board versus Continuation of Board
Scenario A: If the proposed bylaws are adopted, the national board will be terminated and a transition board composed of 4 preselected directors will be installed. Sitting local station boards will select station representative directors to serve. Elections will be held nationwide to elect 1 Paid Staff Director and 1 Volunteer Staff Director. Three at large board directors will be selected together with the 4 transition officers and LSB directors will serve 2021 through 2023. through 2023. Listener members will elect members of the national board in 2023 for service beginning in 2024.
Transition Officers role

At Large Directors role
Scenario B: 
Listener Members at each station would elect nine delegates and staff members would elect 3 delegates in local station board elections in 2021 and 2022. Each local station board would elect 3 listener delegates and 1 staff delegate to be seated on the national board. 
8 – Discuss Pacifica's financial health and what role the board needs to plan in order to make sure that Pacifica stays solvent for many more generations to come.